GoldenEye 007 Reloaded
SCORE: 54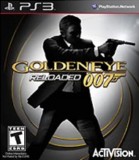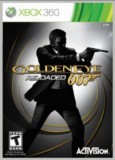 GoldenEye 007: Reloaded brings back memories of the beloved Nintendo 64 game console from the mid 1990's. One of the most memorable games from that console era was the original GoldenEye 007 on the N64. I remember playing for hours and hours with my friends every weekend. Isn't that what video games are for? Enjoying time with family and friends. Was the new GoldenEye 007: Reloaded for Xbox 360 and PS3 able to capture the same magic as its namesake?
For those not up on pop culture, 007 is the code name of the James Bond character from the movie franchise. James Bond is know for fast action, crazy stunts and often inappropriate characterization of women. The original GoldenEye 007 title was based on a major motion picture GoldenEye starring Pierce Brosnan as James Bond. GoldenEye 007: Reloaded is not a re-release of the original, but does offer some tributes to the N64 title. It is based on the Wii version from last year, with updated graphics and additional play modes.
The gameplay in GoldenEye 007: Reloaded is what is to be expected in a first person shooter. You go through mission after mission of shooting bad guys. The controls are responsive and the game plays well in both solo campaigns and multi-player. The goal of the game is to stop the Russian from destroying England. And to do this you must kill everyone in your path.
The graphics are much better than the Wii version from a year ago, but could have been better. There are some blocky graphics that should have been improved. The emphasis is clearly on the gameplay for GoldenEye 007: Reloaded. The solo campaign is too short for a big named title as this one, but the game is better suited for multi-player - both local and online. All of the modern multi-player modes are there and they all function as they should gameplay wise.
Since GoldenEye 007: Reloaded is based on the James Bond movie character, there are those scenes that depict inappropriate scenarios. These scenarios include lounge scenes in what appears to be a lounge and showing female characters inappropriately dressed. There are mild suggestive themes and language in the game as well.
The themes in a James bond title like GoldenEye 007: Reloaded are more adult oriented and targeted for an older audience. This title may be enjoyed by the older gamers that want to take a trip down memory lane, but the content and violence keep it from being a family friendly game. I would like for there to be a James Bond game one day that could include the action, pace and graphics of a GoldenEye 007: Reloaded, but without the adult themes and language.
- Alan
Graphics: 50%
Sound: 55%
Replay/Extras: 63%
Gameplay: 59%
Family Friendly Factor: 44%
System: Xbox 360/PS3
Publisher: Activision
Rating: 'T' - Teen
{Blood, Mild Language, Mild Suggestive Themes, Violence}
Want more info on this product, or the company that made this product?
Set web browser to:
Link

Got a question, comment, or a concern regarding this review?
Email them to:
GameReviews@familyfriendlygaming.com