Glory of Heracles
SCORE: 61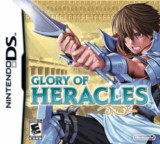 Not only do I write review for Family Friendly Gaming, but I love seeing the various games that are covered. I was eager to play and review Glory of Heracles. I had to purchase the game myself since one did not come in. I am a bit of a Nintendo fanboy, and the editors keep that in mind when I review a Nintendo game. I have to admit that I am very disappointed with Glory of Heracles. Players take on the role of Heracles who is the illegitimate son of Zeus. The Greek Mythology gods squabble while the poor self absorbed humans suffer. Heracles hits his head and can't remember anything. Which is a cute way of having him learn all of his previous skills, and begin a story of self discovery.
If you read my preview then you know exactly what I thought of the graphics in Glory of Heracles. If you have not read the preview let me reiterate. Glory of Heracles looks really bad. There is a lack of details, enticement to lust on the main menu screen, magic use, and role playing violence. I noticed a lot of the characters did not even have faces. I wonder if Glory of Heracles is a Gameboy Advance port because of the details.
The music in Glory of Heracles is absolutely fantastic. I love the special effect sounds, and the sound track. Glory of Heracles really shines in this area. So why such a low score? The rude humor, the sexual humor, and the encouragement of worshiping false idols. In my opinion the humor earns this game a 'T' for Teen rating.
Glory of Heracles contains a nice amount of unlockable content. There are various items, armors, and magical spells for the player to discover. Thousands of battles will need to be performed to unlock some of these, and side quests will be performed for others. Players have to pray in front of idols in order to get the magical spells.
The combat system has a few shining points in Glory of Heracles. There are mini games to make magical spells more powerful. There are weapon upgrades, and different enemies have various weaknesses. Certain areas of Glory of Heracles are very frustrating. Having to fight battle after battle without any ability to save is extremely annoying. I had high hopes for this DS game, and they were dashed against the cliff.
Glory of Heracles is surrounded in Greek Mythology, and various magical elements. Praying to idols (statues) is something I found to be most troubling in Glory of Heracles. Authority figures are not well respected in this Nintendo DS video game either. I hope there are no sequels in the near future. - Luke
Graphics: 51%
Sound: 59%
Replay/Extras: 80%
Gameplay: 63%
Family Friendly Factor: 54%
System: Nintendo DS
Publisher: Nintendo
ESRB Rating: E10+' for Everyone 10+
{Alcohol Reference, Animated Blood, Fantasy Violence, Mild Language, and Mild Suggestive Themes}
Want more info on this product, the company that made this product?
Set web browser to:
Link

Got a question, comment, or a concern regarding this review?
Email them to:
GameReviews@familyfriendlygaming.com