GI Joe Resolute
SCORE: 59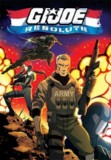 I have been a G.I. Joe fan from way back. For some reason G.I. Joe Resolute was not a priority for me. I had heard good things, and bad things about this animated film. The concept of a darker, and more grim G.I. Joe movie did not really appeal to me. G.I. Joe Resolute is a lot like the 1989 Batman movie. Cobra is coordinated, intelligent, and use cutting edge technology. There are few characters used from both sides, and murder runs rampant. Cobra uses a new super weapon that can destroy an entire city. Countries must turn over control to Cobra Commander or else. For G.I. Joe Resolute to be a final resolution to the franchise it would need to include a lot more characters.
The mixture of comic book and cartoon is an interesting concept. The two had always been distinctly different. The comic book was always more violent than the cartoon. G.I. Joe Resolute leap frogs beyond the comic in terms of violence, and death. Too many cool characters get killed off in this animated movie.
The violent content, and blood is way over the top in G.I. Joe Resolute. I got bored with it because it was not a surprise. It was so consistent that it made me shake my head. As previously mentioned there is a lot of death in G.I. Joe Resolute. Some of the greatest characters are killed off which is very annoying.
The gritty nature of G.I. Joe Resolute continues in the audio department. There is some selfless nature in G.I. Joe Resolute, but at times it seems to be suicidal. The motivation of the bad guys makes little to no sense to me. The "good guys" put hostages in danger, and did not seem to care about it. The music did not pay a lot of homage to the past which was a disappointment to me personally.
A few characters from the movie have profiles in the bonus features, and there is an interview with the filmmakers, and storyboards. G.I. Joe Resolute is 58 minutes. I bought this movie used, and feel like it was a waste of money. I am very disappointed with G.I. Joe Resolute.
The storyline in G.I. Joe Resolute feels like it has been done before. The main differences is characters get murdered off. And Dial Tone is now a young girl. Why can't they keep things the same? What is Hollywood's obsession with changing things, and irritating those who remain true to a franchise. The ending in G.I. Joe Resolute is anti-climatic and rushed. What makes no sense to me in terms of how rushed G.I. Joe Resolute is this - the movie is very short. They could have doubled the length of this movie and done it right.
I can understand wanting to make G.I. Joe more real. Using bullets makes sense. Having blood from being shot is also realistic. It is not family friendly, but it is realistic. Killing off almost all the major bad guys makes no sense. Killing a few good guys here and there, whereas others could go through entire enemy bases and come out alive makes no sense. The live action movie was better.
- Paul
Graphics: 50%
Sound: 60%
Replay/Extras: 72%
Gameplay: 63%
Family Friendly Factor: 50%
System: DVD
Publisher: Paramount
ESRB Rating: 'TV14' - Not Recommended for Persons Under Fourteen Years of Age
Want more info on this product, the company that made this product?
Set web browser to:
Link

Got a question, comment, or a concern regarding this review?
Email them to:
pbury@familyfriendlygaming.com