Fifa Soccer 12
SCORE: 69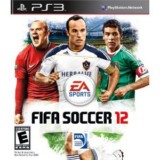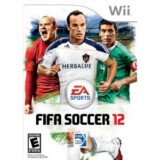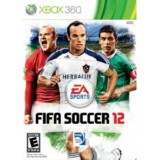 Fifa Soccer 12 is one of the biggest releases all year long in terms of the sports genre. Millions all over the world have been looking for this game. EA Sports continues to improve the franchise. The presentation of Fifa Soccer 12 is extremely high. My favorite thing about Fifa Soccer 12 is getting to go one on one with a goalie during the loading times. I also got to be the goalie and stop a player from scoring. Which was even more entertaining.
Fifa Soccer 12 is the latest entry in the #1 selling sports franchise on the planet. Planet earth likes Fifa Soccer. These fans are a demanding bunch. Just like video game reviewers. Fifa Soccer 12 lets players pick their favorite team, and as they win - their team gets points on the world leader boards. This is a way for players to be a part of something bigger than themselves.
The character models in Fifa Soccer 12 look fantastic. I love how good the stadiums, soccer fields, and nets look. The players are very realistic looking in Fifa Soccer 12. They animate very closely to the real thing. The intensity of how they play on the highest level is simple astounding. I played some games as the goalie just to watch how talented these players are. They are way better than me. Staying out of the way of their brilliance was my key to success.
EA Sports has the sound track options down masterfully. First off you can pick and choose songs from the EA Trax. If a certain song annoys or offends, then just turn it off. The majority of the songs in Fifa Soccer 12 made me think of 80s techno. There are a fair amount of songs that are some kind of remix.
The announcers are great in Fifa Soccer 12. Their voices are great, and they know how to call a game. I loved hearing their excitement as my team got close to score a goal. The fans in the stands also get excited. This ramp up culminates with either the goal being made or missed. The reactions then match the real life situation.
As gamers play Fifa Soccer 12 they earn XP points. Earn enough and you level up. I found I could also improve my stats on the one on one loading screen matches. There are local multi-player modes in Fifa Soccer 12, and online ones. Leaderboards, lobbies for match making, trophies, voice chat, and friend invites are all a part of Fifa Soccer 12.
Let us be completely honest here. There is enough content in Fifa Soccer 12 to have you playing it when Fifa Soccer 13 comes out. I am dead serious about that. There are teams, options, and modes that will keep families busy for a year or more. The one caveat is you will want to enjoy soccer.
Fifa Soccer 12 starts out asking for your Fifa game play experience. It tailors the tutorial to your level. And if you want to skip the tutorial altogether you can. Once I got into Fifa Soccer 12, I was overwhelmed. There is so much to do, and to see. The intensity of this game is amazing. Good teams are tough to beat, and will keep you on your toes.
I had a lot of fun playing Fifa Soccer 12. It is great to see EA continuing to improve this franchise. The referees are in the game to make sure the players play cleanly. I appreciate that Fifa Soccer 12 teaches good sportsmanship. I can see why Fifa Soccer 12 has earned so many awards this year - like an Family Friendly Gaming E3 Gold Medal.
- Frank
UPDATE: Support for sexual deviancy was discovered in this game. Scores were adjusted to denote this attack on families.
Graphics: 61%
Sound: 80%
Replay/Extras: 76%
Gameplay: 70%
Family Friendly Factor: 58%
System: PS3/Xbox 360/Wii
Publisher: EA Sports
Rating: 'E' - Everyone
Want more info on this product, or the company that made this product?
Set web browser to:
Link

Got a question, comment, or a concern regarding this review?
Email them to:
GameReviews@familyfriendlygaming.com