Family Games Pen and Paper Edition
SCORE: 85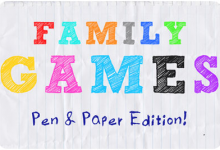 Family Friendly Gaming recently got a download code for Family Games Pen & Paper Edition on the Playstation 3 (PS3), and Playstation Portable (PSP) recently. This game is very similar to the Wii version, and it is neat to see Icon Games Entertainment moving their franchises around to different systems. Family Games Pen & Paper Edition includes these games: BattleFleet, Noughts & Crosses (Tic-Tac-Toe), Matchsticks, Squares (Dots), 4 In-A-Row, Nine Men's Morris (Mill), Hangman, and Safe Cracker. These are games that can be played on paper, but are more entertaining to play on a Playstation machine.

Family Games Pen & Paper Edition has a paper look and feel to it. Some of the best graphics in this downloadable game come from the rock paper scissor scene. The scissors cut the paper, the paper covers the rock, and the rock crushes the scissors. These images are realistic. I just wish they had come slower. If you win a game, then your little stick figure person (which is about as good as I could draw anyways) celebrates in some fashion. Lose, and your stick figure person gets killed off someway. All of this is done on paper.
The music in Family Games Pen & Paper Edition is surprisingly good. I was dancing to the music, and enjoying it. Some of the special effects can get loud, like when your battleship gets hit. Well any boat for that matter. The pen and paper concept works well in the special effect sounds. I liked the celebration sounds as I won game after game. Losing a game also produces some interesting sounds.
I was happily playing Family Games Pen & Paper Edition, and I earned a bottle cap. What is a bottle cap you are asking? Well it is like a badge or an achievement. There are various ones, and some require a lot of luck. But the more I unlocked the cooler I felt. There is a lot of tracking on these games, and it is interesting to see how well I performed at the various games. There are enough games in Family Games Pen & Paper Edition to warrant the price. Two family members can also enjoy Family Games Pen & Paper Edition at the same time which is nice.
The PS3/PSP controls work well in most of the games in Family Games Pen & Paper Edition. I did find an irritation or two while I played this downloadable game. First off the Matchsticks game would not let me retract a move. I made a mistake based on how the controls worked, and it took me some tries to figure out the control scheme. I would have liked to be able to undo a move. The next issue I had was in Battleship. I knew where I wanted to try next, but would have to wait for the computer or other player to complete their move before I could move my cursor. These minor details were noticeable for me.
Families can have fun with Family Games Pen & Paper Edition. Most of these games will require thought. In fact I am not smart enough to figure out Safe Cracker, and eventually gave up on it. I also am not sure how to play Nine Men's Morris (Mill), but I won quite a bit. Battleship is one of the best games in Family Games Pen & Paper Edition in my opinion. I then really enjoyed Hangman, and 4 In-A-Row. I like to see games like Family Games Pen & Paper Edition make it to the PS3, and PSP. They certainly need it.
- Sam
Graphics: 78%
Sound: 88%
Replay/Extras: 91%
Gameplay: 80%
Family Friendly Factor: 88%
System: Playstation 3/Playstation Portable
Publisher: Icon Games Entertainment
Rating: 'E' for Everyone
Want more info on this product, or the company that made this product? Set web browser to:
Link

Got a question, comment, or a concern regarding this review? Email them to:
GameReviews@familyfriendlygaming.com