Eyepet
SCORE: 91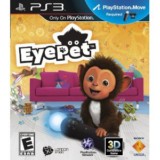 One of the coolest things about Family Friendly Gaming is we tell it like it is. Not everyone enjoys the truth when it gets in the way of their progress or profits. On the flip side we admit when we were wrong about something. We have been negative about the Playstation Move. Fun, family friendly games like Eyepet show what the Move is capable of, and that is fun. Eyepet on the Playstation 3 is one of the most impressive virtual pet games I have ever played. He is cute, curious, and very playful. This PS3 game goes beyond him as there are other games on this disc like doodling on the screen. And thanks to the Move you can do this without having to clean the screen later with a Toddy.
The graphics that are generated from the game are impressive, especially the water effects. The camera does okay, but I noticed it could get grainy in darker environments. It also can change some colors - like walls, and couches. And here we thought we had picked a good color scheme. Well it is artistic, and I will leave it there.
The Eyepet is such a joy to listen to and play with. Yes that may sound odd since I am talking about a character in a video game. But it is true, and that is how I walk away from Eyepet. He feels very real to me, even though I know he is not. The way he interacts with the environment has a lot to do with that. The music fits the theme, and the professor does a fantastic job. I did not find any offensive sounds or language while playing Eyepet on the Playstation 3.
I have spent countless hours playing with my Eyepet. This is one of those games that can be enjoyed by the whole family for months. There are enough activities to keep the most hardened family member happy for a few weeks. Mastering them, and getting all the achievements will take longer.
The technology that went into Eyepet makes my head hurt. This PS3 game scans your room with the camera, puts it on the screen, and then adds the Eyepet. The various mini games in Eyepet are fun for all ages. Other members of the family will come by, take an interest and the next thing I knew we were taking turns having fun with him. I ran into no control issues with Eyepet.
I really hope and pray that Sony continues to make fantastic games like Eyepet in the near future. This game is what the core of video games is about - inclusive fun for the entire family. Eyepet shows me that Sony gets it. The lessons in Eyepet are creativity, following instructions, and taking care of an animal. Sure it is a digital one, but the lessons can be applied to real live ones. It was a joy to review this game.
- Paul
Graphics: 90%
Sound: 86%
Replay/Extras: 90%
Gameplay: 94%
Family Friendly Factor: 95%
System: Playstation 3 (Move)
Publisher: Sony
Rating: 'E' for Everyone
Want more info on this product, the company that made this product?
Set web browser to:
Link

Got a question, comment, or a concern regarding this review?
Email them to:
pbury@familyfriendlygaming.com