Defendin DePenguin
SCORE: 71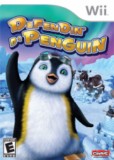 Tower Defense games have become all the rage in recent years. The concept is pretty simple. Bad guys go walking along a path, and the player must put things along the side of the path that will stop them. In terms of this Wii game from Crave Entertainment the tundra up north is the location. Penguins have fish in their villages, and the bad animals are walking through stealing them. So put up snowball throwers, snowman launchers, icicle shooters, and more to stop them. Coins are left by enemies which are used to purchase additional defenses.
Defendin' DePeguin looks a lot better graphically than I was expecting. The animals animate at a decent rate. Even though there is a ton of stuff being launched at the various animals, they never show it. When their life bar is drained, they stop and vanish. Seeings how Defendin' DePeguin is up north, I expected a lot of white. Thankfully there are enough different items to keep this game fresh.
I really like the music in Defendin' DePeguin. I suppose someone is going to hit me for saying that, but its true. Oh its true! I hated leaving the menu screens because of how much I was chilling with the music. But I eventually tore myself away from it. The player helps the towns who are being invaded by various animals wanting to steal their fish.
Defendin' DePeguin includes enough levels and enough worlds to keep gamers busy for a few weeks at the very least. The longer the player enjoys this game, the more unlockable content they find. There are items that can be collected in levels that assist in leveling up the tower.
I enjoyed my time with Defendin' DePeguin. I spent my own money on this game, and feel like it was well spent. My one main complaint about Defendin' DePeguin is it is difficult to strategize in one level not knowing what is coming next. I also had problems in later levels with not having enough coins to purchase the towers I needed to stop the advancing animals. So I can see where improvements can be made.
The main lesson I got from Defendin' DePeguin is to stop those who are trying to steal. I did that by putting defenses in place to destroy them before they made it to the village. I would like a sequel to this game in the future. Problem is Crave Entertainment is not know for their follow through. Tower Defense games work on the Wii really well thanks to the control scheme.
- Sam
Graphics: 69%
Sound: 84%
Replay/Extras: 76%
Gameplay: 60%
Family Friendly Factor: 68%
System: Wii
Publisher: Crave Entertainment
ESRB Rating: 'E' - Everyone
{Mild Cartoon Violence}
Want more info on this product, the company that made this product?
Set web browser to:
Link

Got a question, comment, or a concern regarding this review?
Email them to:
GameReviews@familyfriendlygaming.com