David vs Goliath
SCORE: 79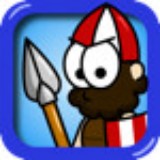 I was offered the opportunity to review the book David vs Goliath on the iPhone/iPod Touch. Family Friendly Gaming was provided a downloadable code for this app. You might remember our review of David's Knockdown which comes from the same company - A Little BC. So they are not straying too far from their previous game. In essence they made a book out of it.
Numerous graphics from their previous app are recycled into David vs Goliath. This is not a bad thing because it has a cute, fresh and fun feel to them. The art style stays similar, and is very bright and colorful in the twelve pages in this book. Yes I said twelve pages. Now there are a few menu screens as well. David vs Goliath is being sold as a children's book. There are some mild animations on a few of the screens.
David vs Goliath has two main options. One is to read the book, and the other is to listen to it. The narrators voice is okay in David vs Goliath. He throws a few vocal variations into the book at key points, and when quoting certain characters. Menu buttons have a nice special effect sound that is pretty cool.
We have been trained to look at the price of the product and decide if we would purchase it for that price. David vs Goliath is currently selling for $1.99. I think that is a little steep for the amount of content. I could see this app selling for $0.99, and it being a good deal. David vs Goliath can read (or listened to) over and over again.
Children do not have a lot of interaction with David vs Goliath. They press buttons to go to the next screen. I noticed some lag in this from time to time. Nothing too bad, but I did hit the button (to go to the next page) a second time. There are some big words in David vs Goliath that children learning how to read will have problems with. Kids have fun with David vs Goliath.
You may think I am a little down on David vs Goliath. I do think this is a great app that is going in the right direction. Cute children Biblically based books on this medium. I really hope A Little BC branches out into other Biblical stories for games, and books. David vs Goliath is one of the few Christian apps for children. Check this one out, especially if it goes on sale.
- Luke
Graphics: 85%
Sound: 78%
Replay/Extras: 69%
Gameplay: 72%
Family Friendly Factor: 89%
System: iPhone/iPod Touch
Publisher: A Little BC
ESRB Rating: '4+' - 4+
Want more info on this product, the company that made this product?
Set web browser to:
Link

Got a question, comment, or a concern regarding this review?
Email them to:
GameReviews@familyfriendlygaming.com