Booooly
SCORE: 79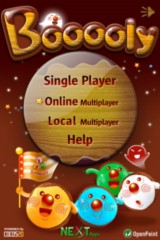 Booooly may be the strangest name for a video game that Family Friendly Gaming has ever reviewed. This app comes in two different ways. There is the free version which gives players a try before you buy feel, and there is a version that can be purchased. Purchasing Booooly grants more features, levels, etc. Essentially what you would expect out of this model. These little cute balls come in various colors. When two or more of the same color connect with one another, the player gets the option to make them vanish (editor: player needs three or more connecting to make them vanish). This where the physics come into play, and it is a lot better than I was expecting.
I am very impressed with the bright and colorful graphics in Booooly. The little characters have some fun animations, and they are a real pleasure to play with. There are bombs in Booooly, and they explode shaking up the playing field. I suspect a Booooly has some connection to ghosts at the very least.
The music in Booooly is pleasant. I was getting into it as I played this game. The various special effect sounds work well in this game as well. The only thing in the sounds department I can see families may have a problem with is the sounds of explosions. This did not bother me, however it would be irresponsible of me to neglect mentioning it.
I will happily admit that I really enjoy playing Booooly. Yes I know this game style concept has been around. Booooly adds a lot of character to it, making it feel fresh. There are plenty of levels, and multiplayer will keep many busy for months to come. I feel that Booooly is worth the cost.Booooly is a fun game that is generally safe for the entire family. The touch controls work marvelously in this hand held video game. Booooly is one of those games that all ages, and genders of the family can enjoy. My wife is the one who downloaded this game, and after I tried it I knew we had to get a review done.
I really hope to see sequels to Booooly in the future. I can easily see this game ported to other systems and working just as well. The ghost aspect of this game is beneath the level of Casper in my opinion. I did not find any occult references, or spiritual references in Booooly. I will be recommending this app to friends, and family members. It was my pleasure to review this game.
- Paul

Graphics: 79%
Sound: 74%
Replay/Extras: 83%
Gameplay: 80%
Family Friendly Factor: 79%
System: iPhone/iPod Touch
Publisher: NextApps Inc
ESRB Rating: '4+' for 4+
Want more info on this product, the company that made this product?
Set web browser to:
Link

Got a question, comment, or a concern regarding this review?
Email them to:
pbury@familyfriendlygaming.com