Bird Strike
SCORE: 88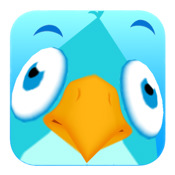 Sometimes the simplest designs are the most engaging. Bird Strike is an app on the Iphone/Ipod Touch that exemplifies this concept amazingly well. Players launch their bird into the air, and then tilt the device left and right to guide their little bird. Hit rockets and other such power ups that boost your climb. PikPok decided to spice the game up with plenty of obstacles that can hurt your little bird. Hit something and you will start to fall back down. Bird Strike only gives players so much time to free fall before it is game over. Thankfully there are plenty of boost items, so players need to pay attention and them on the way back down. That way they can continue their climb.
I like the art style in Bird Strike. The bird has a very family friendly look to it. The helmet power up is one of the best in this hand held game in my opinion. It allows the player to smash through things that would normally stop the little birdie. Bonking the birds head on objects is as violent as Bird Strike gets. I did not find any offensive images while playing Bird Strike.
The music in Bird Strike is okay. I enjoyed it, but there is really nothing to write home about. The special effect sounds in Bird Strike is really good. I even enjoyed the sound of bonking my little birdies head on the platforms. The rocket sounds in Bird Strike is fantastic, and lets the player know how much time they have left before a free fall occurs.
I found Bird Strike to be highly addicting. I would break one of my high scores and want to try and beat it again. Every single time I played this app I felt like I could do better. If you have problems with video game addiction then you need to avoid Bird Strike because it could become a problem in your life. If you are still with us after that warning, Bird Strike has a mode where you can challenge your friends. This will appeal to the competitive gamers.
The controls in Bird Strike are very easy. Tilting the unit one direction or the other is very simple to pick up and run with. I did have some confusion at first because I did not know I was supposed to tilt. Some explanation would have been nice. I had a lot of fun playing Bird Strike.
I would love to see sequels to Bird Strike in the near future. Ports to other machines would be really cool as well. Bird Strike teaches pattern recognition, as well as short term memory skills. I found no moral or ethical issues with this app.
- Yolanda
Graphics: 89%
Sound: 81%
Replay/Extras: 90%
Gameplay: 92%
Family Friendly Factor: 88%
System: iPhone/iPod Touch
Publisher: PikPok
ESRB Rating: '9+' for 9+
{Infrequent/Mild Cartoon or Fantasy Violence}
Want more info on this product, the company that made this product?
Set web browser to:
Link

Got a question, comment, or a concern regarding this review?
Email them to:
craftiemom@familyfriendlygaming.com