Adrenalin Misfits
SCORE: 90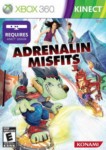 The more often I play games on Kinect the more impressed I become. Konami has done a fine job with Adrenalin Misfits. I played an early build at E3 2010, and was impressed. It had some minor issues that I hoped would get corrected. They got corrected, making this one fantastic boarding video game on the Xbox 360. I can't really call Adrenalin Misfits a snowboarding game since it lets you board on surfaces other than snow and ice. This home console game is part Mario Kart, and part downhill board racing.
The wide array of characters look wild in Adrenalin Misfits. They are animal based (most of them), and they have a real artistic flare to them. One of the cool things about Adrenalin Misfits is the ability to race with your avatar. There are items that can be found, and used. Many of these will attack your fellow racers. This is where the cartoon violence comes from. Adrenalin Misfits allows us to get monster air and perform some fun tricks, which is a nice addition.
Adrenalin Misfits has a slight edge to it. The characters in this Xbox 360 game are characters. They have some major personalities that I would associate with things like surfer dudes. The music is upbeat, and energetic. The special effect sounds fit the theme, and add a layer of excitement. There is an announcer in Adrenalin Misfits who will let you know you are in first place, or to watch out for an attack. Playing Adrenalin Misfits feels like a celebration.
I lost track of how many boards, characters, modes, features, and courses I unlocked. Adrenalin Misfits will have you replaying for quite some time. Looking at the pictures taken at select points in certain levels is also fun to see. Family Friendly Gaming was provided a reviewable copy of Adrenalin Misfits. Thanks to Congress we have to tell you that. With that official statement out of the way, I do believe Adrenalin Misfits is worth the price of admission.
The one concern I had about Adrenalin Misfits is the controls. I had some problems at E3 2010 in Los Angeles. The final retail product has crisp, clean, and clear controls. Everything I tried to do worked the first time, and it worked well. I was able to win races easily at the beginning, and had to work for it later on. This really helps the fun factor. I had a blast playing Adrenalin Misfits, and got some physical exercise. The menu screens are easy to navigate thanks to the physical gestures the game requires.
I used to snowboard in the Cascades when I was younger, so I know a few things about how it should feel. Adrenalin Misfits feels very realistic, and is a whole lot more fun. Plus I can stay inside and not get cold. The items that are used as weapons are optional, and I choose to ignore them as much as possible. They are mainly used to slow down racers in front of you. The different modes teach different lessons.
- Paul
Graphics: 88%
Sound: 87%
Replay/Extras: 92%
Gameplay: 95%
Family Friendly Factor: 86%
System: Xbox 360 (Kinect)
Publisher: Konami
ESRB Rating: 'E' for Everyone
{Mild Cartoon Violence}
Want more info on this product, or the company that made this product?
Set web browser to:
Link

Got a question, comment, or a concern regarding this review?
Email them to:
pbury@familyfriendlygaming.com