4 x 4 Dream Race
SCORE: 60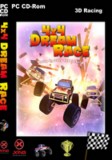 Dream Race from Xing Interactive is an off-road arcade style racer. Unfortunately, there is very little to get excited about. Xing Interactive has been able to put out some pretty solid titles of late, but Dream Racer does not fall into that category. Dream Racer is advertised as a "racing extravaganza" but is held back by too many potholes to even get off the starting line.
The racing controls in Dream Racer are straight forward and easy to learn. The gamer will use the arrows for acceleration / steering and the 'shift' key for turbo. Win the first race and go on to the next one, and so on. There are, however, only 4 races total. Meaning there is little reason to play Dream Racer once those four races have been beaten. Customization of your 4x4 is available but offers little more than changing the paint scheme.
Dream Racer sets the graphics of PC games back at least 10 years. Even using the highest graphical / display settings the 4 x 4's, trees and environments were blocky and unrealistic. The scale of the 4 x 4's was also an issue for me, as the fences, barrels and buildings made them look like remote control trucks instead of massive 4 x 4's. One minute you are racing on a huge dirt road in what appears to be a dessert, then suddenly you are in the middle of giant buildings which I assumed were cities (still on the same giant dirt road in the middle of the city).
Knowing Xing Interactive can, and has, produced better quality games I was disappointed in Dream Racer. Hopefully Xing can take what it has in Dream Racer and use it to build upon for a much more comprehensive and enjoyable racing experience in the future.
- Alan
Graphics: 60%
Sound: 72%
Replay/Extras: 50%
Gameplay: 55%
Family Friendly Factor: 60%
System: Personal Computer
Publisher: Xing Interactive
ESRB Rating: 'E' for Everyone
Want more info on this product, or the company that made this product?
Set web browser to:
Link

Got a question, comment, or a concern regarding this review?
Email them to:
GameReviews@familyfriendlygaming.com