Worms Reloaded
SCORE: 73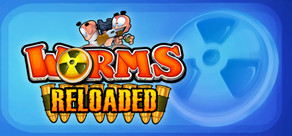 Having worms is generally considered a bad thing. In this case however it could be a lot of fun. Worms Reloaded is the latest installment in the classic franchise from Team 17 that began in the mid 90's. These guys may be spineless, but that doesn't mean they're not brave.
Worms Reloaded adds some spice to its old formula. It uses brightly colored backdrops and HD graphics to create fun atmospheres in which to do battle. The artwork is full of detail and sets the mood in each area. Your wee worm warriors can be customized with the many choices of headgear making it simple for players to create a worm team that fits their personality. Wear a baseball cap, a military helmet, or why not some cheese? If you have never played a Worms game before, you should be aware that there is a hefty amount of cartoon violence contained within. Your team of worms will face off against the opposing team as you attempt to destroy one another using a vast array of weaponry. There is no outright blood and gore, but these little guys are not shy about destroying their enemies. When a worm is defeated he will detonate himself and also cause damage to any nearby worms. To give you a mental picture I would equate the type of violence in this game to that of the old Looney Tunes characters. While no explicit visuals are displayed, the violent acts are conveyed quite clearly.
The audio in Worms Reloaded is one of the best aspects of the game. Players can choose which voice bank they want their worms to use. No matter which one you choose you'll find yourself laughing involuntarily at some point due to the remarks made by your worms. These little invertebrates are really quite amusing. I will caution players and parents that there are a handful of off-color comments made by the worms from time to time that may be offensive. In addition to the funny voices there are plenty of sound effects to go around as well. The weapons are loud and the explosions are grand making the warzone come to life. The music in the game is a bit lackluster, but even so it doesn't do much to detract from the game.
Worms Reloaded has a lot in the way of replay value. The high level of customization options allows for a varied experience each time you play. In the single player campaign you will take on 35 levels of enemy worms with an additional 30 levels available in the warzone mode. There is also a "body count" mode where players take on endless waves of enemy worms and try to survive as long as possible. Several Steam achievements are available to unlock throughout the course of your single player campaign as well. As if that weren't enough, as you progress you will earn coins that you can spend at the in-game shop to purchase additional items such as hats, landscapes, and weapons to use in the game. Multiplayer support is available though I found there to be very few internet games to be had as of yet. Online play will hopefully increase once the game has been out for a while longer. Players can also create their own custom landscapes to play or share with others making for a nearly endless supply of new levels. Team 17 has gone to a great deal of effort to ensure that this game will keep players busy for a good long while.
Worms Reloaded is a turn-based strategy game like the early releases in this series. Players take turns firing weapons at the enemy team in an effort to eliminate them completely. There is more strategy involved in this than one might expect which is what makes this game so much fun. For first time players, or those needing a refresher, there are some training courses to go through which will explain all of the ins and outs of the game. I found the controls to be pretty simple although a bit cumbersome at times. The game supports using a gamepad but for me it was much easier to stick with the classic keyboard controls. I also felt that the wait time between turns seemed a bit drawn out and with no way to skip ahead it becomes a bit tedious at times. All in all the gameplay is very rewarding and quite reminiscent of the original.
I can't say that this is what I would consider a completely family friendly game. The cartoon violence is a core component of this game ruling it out as safe for everyone. Even though there is no blood or gore to speak of, the violent nature of the game makes it a poor choice for young families. Mature teens and adults will likely be comfortable playing this game and find it amusing, but it is certainly not appropriate for younger players.
-Roger
Graphics: 71%
Sound: 76%
Replay/Extras: 79%
Gameplay: 79%
Family Friendly Factor: 59%
System: Personal Computer
Publisher: Team 17
Rating: 'NR' for Not Rated
Want more info on this product, or the company that made this product?
Set web browser to:
Link
Got a question, comment, or a concern regarding this review?
Email them to:
Roger@familyfriendlygaming.com