Toontown Online
SCORE: 88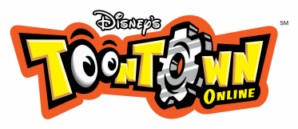 When this huge colorful box arrived here at Family Friendly Gaming I knew our kids would be very interested. Toontown Online was all over this box, as well as colorful characters. Anyone could say Toontown Online, but it has to have some star power in it right? How is Mickey Mouse for you? That is right this is a Disney product. As an adult I have gotten pleasure out of playing Toontown Online. Children really get into this Personal Computer video game. In fact my eldest is asking every day if he can play it. So I know it resonates with the target age group quite well. There are moderators and control chat so only certain things can be said/heard.
Toontown Online included a lot of fantastic color schemes. It is like walking into a cartoon. Many of the mini games look great. I got a real treat out of seeing Mickey Mouse personally. The down side is there is cartoon violence in this game. If you watch cartoons then you know exactly what to expect. Character creation has been kept safe for families, which Family Friendly Gaming appreciates.
The music and sounds in Toontown Online contain a real fresh feel to it. They also make me think of complete fun. Kids like to dance around while the music is playing the game is on one of the many loading screens. I really like the chat controls because I know no sensitive information can be sent, and nothing offensive can arrive. I wish more games would consider families in this regard.
The mini games are fun, and since Toontown Online is an online game additional content can always arrive. Toontown Online launched in October of 2002 and there have been over 50 million toons created. There is a tiered system to membership in Toontown Online. There is free membership, and paid membership. Paying members get additional content.
I ran into no issues with the controls in Toontown Online. My only complaint about the game play in Toontown Online is the loading screens. They teach patience, and break up the game play. Addiction is something you will want to pay attention to since Toontown Online is an online video game community.
Disney has done a lot of safe for the family things in Toontown Online. I have already mentioned many of them. Online games do not need sequels since there is a comfort level with the original. That can also lead to a logistical nightmare. I had fun playing this PC game.
-Yolanda
Graphics: 88%
Sound: 90%
Replay/Extras: 90%
Gameplay: 87%
Family Friendly Factor: 86%
System: Personal Computer
Publisher: Walt Disney Internet Group
Rating: 'E' for Everyone
{Cartoon Violence, Comic Mischief}
Want more info on this product, or the company that made this product?
Set web browser to:
Link
Got a question, comment, or a concern regarding this review?
Email them to:
craftiemom@familyfriendlygaming.com