The Silver Lining Episode 1
SCORE: 74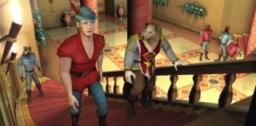 King's Quest fans get their opportunity to embark on a new adventure into a familiar kingdom. Phoenix Online has released the first in a planned series of five episodes resurrecting Graham and other beloved characters from the original series. What makes this unique is that The Silver Lining is not an official King's Quest installment, but rather the product of a group of dedicated fans pooling their skills and resources to revive a long retired franchise. It's a small miracle that this game even made it into existence considering the legal ramifications of attempting to create a sequel to a series to which you do not own the rights. Phoenix Online has finally managed to pull it off, but is it what thou hast been longing for?
Keeping in mind that this game was essentially created by fans for fans, the quality of the graphics found within is impressive. This is a 3D point and click adventure game in the classic style of the long-gone Sierra On-Line adventures many of us grew to know and love. Though the graphics are definitely not what one would expect from a professionally created retail product, they are certainly better than I would have anticipated from an independently created fan game. The game is highly cinematic and the opening sequence sets the stage for the quest on which you are about to embark. The cinematics are done well and draw you into the story. The graphics within the game are a bit rough around the edges but are still light years ahead of what was used in the original series making for a nostalgic experience with a little spit and polish. The images used in the game are more or less wholesome. The opening scenes even feature a traditional wedding which is a rare thing to see in a video game. There are also some darker sides to the game featuring a cloaked individual who one would assume is some sort of sorcerer as well as a village shaman that may potentially perform some sort of witchcraft-like activities.
The Silver Lining's dialog is entirely done by voice acting. Another impressive accomplishment when you consider that this is not a professionally produced game. I will say, however, that some of the voice acting is well below par even for an indie game. The narration is a bit long winded and though the narrator means well, there are often far too many details expressed about any given place or object. I found myself clicking through the dialogs as the comments by the narrator had no apparent bearing on the current situation. There are many throwbacks to the old series during these drawn out commentaries, but I feel as if it was a bit overdone. The music in the game is done well and suits the period in which the game takes place. The ambient sounds are also appropriate and are not overwhelming. Phoenix has done a great job of setting the mood for the episode.
Players should not expect to find much in the way of extras or bonus features. The game has nothing to unlock and there aren't even any areas that eager adventurers can explore other than those required to progress through the game. On the bright side this episode is free making it a good value no matter how you cut it.
The actual gameplay of The Silver Lining surprised me a bit. After the opening cinematic sequence you are able to point and click your way around as you would expect in this type of adventure. You are tasked with a specific goal and you get to do a little poking around before embarking on your quest. This is all fine and well until you quickly accomplish your goal and are anticipating the next challenge on your adventure. After this brief initial task, you are basically on auto-pilot as you watch cinematics unfold and automated character sequences take place. You may get to click two or three times to point Graham to his next destination, but oddly once you reach your destination there is no gameplay to speak of. I found this game to be very anti-climactic. Just when you think you may actually get to control your character again, the credits roll and the episode is over. I am not exaggerating when I say that even mildly experienced adventure gamers can expect to get 15 to 20 minutes of actual gameplay out of this episode. While episodic content is generally shorter than players would like, I found this to be very abrupt and disappointing. Most of the game is spent setting you up for the next episode to be released at some point in the future. Fans of the series will appreciate the loyalty to the original King's Quest tradition of the 80's and 90's, but will be sorely disappointed by the amount of gameplay found here.
The Silver Lining is pretty safe on the family friendly front. Other than the mild hints of sorcery and witchcraft I found no offensive content or language in the game. This is not a game that families will likely enjoy playing together due to the nature of the genre, but if they so choose it is safe for all.
- Roger
Graphics: 84%
Sound: 68%
Replay/Extras: 67%
Gameplay: 76%
Family Friendly Factor: 73%
System: Personal Computer
Publisher: Phoenix Online
Rating: 'NR' for Not Rated
Want more info on this product, or the company that made this product?
Set web browser to:
Link
Got a question, comment, or a concern regarding this review?
Email them to:
Roger@familyfriendlygaming.com