SuperStars V8 RACING
SCORE: 88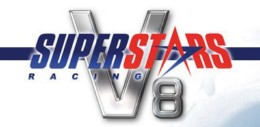 SuperStars V8 RACING is a downloadable game on the Sony Playstation 3 (PS3). This racing game feels like an F-1 racing game, but done with different vehicles. There are eleven different teams, and nineteen different drives from the Superstar Series. Players can play SuperStars V8 RACING in arcade or sim mode. The ten different tracks in this PS3 game are extremely challenging. In fact, you better be a hardcore racing fan to get behind the wheel of this downloadable home console video game.
The second thing I noticed about SuperStars V8 RACING is how beautiful it is. I found I could smash into the other cars, and then they would have some authentic battle damage. Crash too much, and players find parts falling off the awesome looking vehicles. Racing in different conditions is a nice touch. The visual level of realism in SuperStars V8 RACING is inspiring.
The very first thing I noticed about SuperStars V8 RACING is the music. It almost blew me off my chair when it started going. The rockish sounds woke me up, but they did not really seem to fit the theme of this game. The core of SuperStars V8 RACING is to go as fast as you can before hitting a turn, then slowing down, and making it through. Then going fast, and slowing way down. I did not find any offensive language while playing SuperStars V8 RACING.
SuperStars V8 RACING contains single player, and multiplayer modes. Some of the ways SuperStars V8 RACING can be played is a Quick Race, Training, Race Weekend, Championship, and Superstars. Numerous real world vehicles are in this game. The ten tracks may seem on the light side at first, however once you play them you will find replay value in them. SuperStars V8 RACING contains a lot of content for the price ($19.99). Expect it to take some time to download.
The controls in SuperStars V8 RACING are fantastic. I knew when I made a mistake and would spin out. SuperStars V8 RACING taught me that cheaters do not win because it penalized me for smashing other vehicles or cutting corners. Going slower for five seconds did not stop me from jumping 7 positions though. It did limit me from doing it all the time though. I like how SuperStars V8 RACING penalizes cheating.
The biggest lesson I learned in SuperStars V8 RACING is to be in control at all times. I also learned to be safe, and take it slow through corners. One mistake in SuperStars V8 RACING can be costly in terms of placing. SuperStars V8 RACING is a Playstation 3 video game that is very safe for the entire family. I hope to see more games like this in the future. I appreciate how O-Games has a great training section in SuperStars V8 RACING.
- Frank
Graphics: 92%
Sound: 82%
Replay/Extras: 89%
Gameplay: 88%
Family Friendly Factor: 89%
System: Playstation 3
Publisher: O-Games
Rating: 'E' for Everyone
Want more info on this product, or the company that made this product?
Set web browser to:
Link
Got a question, comment, or a concern regarding this review?
Email them to:
GameReviews@familyfriendlygaming.com