Sonic and Sega All-Stars Racing
SCORE: 79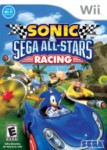 I was so stoked to find Sonic & Sega All-Stars Racing on sale at Amazon. I was totally pumped when it arrived, and there was enough of a lull in shipments to be able to sit down and play this game. I was digging this game, and geeking out for quite a few hours. I have to intellectually honest though, and I started denoting issues with this game. The power ups are not balanced at all. You can be in one of the top three positions and get a really good item that will put you over. You can be in last place, and get a lame item that does not help at all. Some tracks have multiple areas you can get stuck on, and unless you memorize every race track you can wind up running into a wall. That means a loss. Which can be extremely frustrating.
On the surface the graphics of Sonic & Sega All-Stars Racing are awesome. Most tracks are bright and colorful. Then the game takes you down the path of the dark side into zombie filled tracks. This was such a downer that it hurts this game. I know the zombies are a Sega franchise, but there are so many better characters Sega could have used. Phantasy Star for example. Then you have a female character getting up and shaking her mini skirt at the camera. I was quickly losing my love for this multiplatform game (editor on the Wii, PC. PS3, and Xbox 360).
If you happen to be a relaxed gamer, then Sonic & Sega All-Stars Racing will wake you up. The music is at a higher volume than many other games I have played. I liked the tracks used in this game, and it really got me excited about racing. The music did not wind up annoying me after many hours of game play which is a really good thing. Sonic offers advice during certain loading screens, which is cool.
The amount of unlockable content is exceptional in Sonic & Sega All-Stars Racing. There are many unlockable characters, and most are acceptable. The zombie ones are just gross. Twenty four tracks to race on, and multiple missions to complete. Sega also included online game play, as well as local multiplayer modes.
Sonic & Sega All-Stars Racing does a lot to try and capture the kart racing crown. Unfortunately some of those things wind up falling flat on their faces. The learning curve in this game starts easy, and then climbs drastically. Sega needs to learn from Nintendo when it comes to easing the player into more difficult races. The ultra reliance on drifting is also annoying, and takes a lot away from this game.
The moral of Sonic & Sega All-Stars Racing is to get to the finish line first, and by any means necessary. This means use weapons, drop mines, whatever it takes. I have come away from Sonic & Sega All-Stars Racing a little disheartened because I had such high hopes. Maybe a sequel will have content that is better for families.
- Paul
Graphics: 71%
Sound: 86%
Replay/Extras: 90%
Gameplay: 72%
Family Friendly Factor: 77%
System: Wii/Xbox 360/Playstation 3/PC
Publisher: Sega
Rating: 'E10+' for Everyone 10+
{Cartoon Violence, Comic Mischief, Mild Suggestive Themes}
Want more info on this product, or the company that made this product?
Set web browser to:
Link
Got a question, comment, or a concern regarding this review?
Email them to:
pbury@familyfriendlygaming.com