Soap Opera Dash
SCORE: 88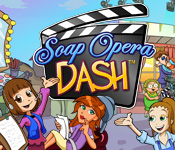 The popular "Dash" game series goes pseudo-celebrity with Soap Opera Dash. You take on the role of Rosie who aspires to produce the best Soap Opera ever. Like other "Dash" games you must use your powers of multi-tasking and obsessive compulsiveness to make sure everyone in the studio is taken care of and doing what they're supposed to. The Soap Opera theme may be off-putting, but in actuality it is simply a new label on a familiar formula.
Visually this game looks very much like it was designed for a thirteen year old girl. A fact that I wasn't thrilled about initially, but after getting over myself and pressing on, the game turned out to be a lot of fun even though it retains its girly appearance to the very end. The interface of the game looks great and sells the Hollywood theme. The graphics are very cartoonish but drawn well with lots of fun details. I was concerned that there would be some questionable visuals based on the theme of this game, but aside from some mild cartoon kisses the game maintains a family friendly appearance.
The audio in Soap Opera Dash is pretty basic but still works well nonetheless. The music is upbeat with a few dramatic organ notes here and there. The sound effects are fun and provide good direction toward things that you need to pay attention to during gameplay. If you're neglecting a film critic for example, he will grumpily clear his throat to encourage you to take action. There is no spoken dialog in this game and therefore certainly no offensive audio for parents to be concerned about.
There's a good amount a replay value in Soap Opera Dash as well as a fair number of extra features to unlock. Players can complete certain goals to earn "awards" within the game. There is a "Treasure Trove" where players can purchase bonus features and bonus levels. The bonus features basically allow you to add comedic accessories to your film studio and the bonus levels give you some additional challenges to play through. With over 50 levels to play for under $10 bucks, it's a pretty decent value.
If you're unfamiliar with the "Dash" franchise by PlayFirst, the object of the game is to dash around the scene tending to the needs of those on the set. In Soap Opera Dash some of your tasks will include guiding Rosie as she hands out scripts to the actors, styles their hair, assists them with changing their wardrobe, does their makeup, brings them food, all while making sure that the props are properly placed on the set and that the camera man is in place. Rosie needs to be a master of multi-tasking to keep the show moving smoothly. Players will chain actions together making sure Rosie keeps moving from action to action in order to get the actors ready and on-stage for the current scene. While Rosie is scurrying about performing these tasks players will seize the spare seconds to drag props onto the set, seat the film critics, bring adoring fans in for autographs from the actors, move the camera man into place or set him to task repairing equipment that has broken down. Keep in mind that all of this is occurring in real time and that you must do it all while ensuring that the actors and critics are not getting impatient while waiting for you. To further add to the chaos, there are judges that provide you with a set of goals before each episode. These include things like getting a certain number of color combos (this means placing actors in matching colored chairs and dressing rooms), delivering a number of iced teas to cast members, and other menial tasks. Before the start of each episode you can upgrade equipment using your allotted budget. If you upgrade Rosie's boots she'll be able to dash around faster, upgrading chairs to more comfortable versions increases the actor's patience while waiting, and in some instances you can even spend your funds on hiring some helpers to cook food or style hair thus freeing up some of your time. If you're good with a mouse, the controls of this game work very well and are only as complex as pointing, clicking, and dragging. One small frustration I found while playing was that when placing certain props I had to be very precise. It didn't feel like this was by design as it totally breaks the momentum of the game when your prop snaps back to the storage area instead of staying where you placed it. An adjustment in this area would be a welcome update to this game. The game is very fun to play, though I can't exactly figure out why that is. Perhaps it caters to my obsessive compulsive tendencies?
Soap Opera Dash holds few items of concern in the area of family friendliness. These may be of no concern to many players, but I will point them out so that you can decide for yourself. The game does promote some cliché dramatic Soap Opera characters such as lovers and the jealous ex. Players must choose the theme of each season finale and will have the option to choose from such actions as kissing, punching, and betrayal. Having said that, regardless of which theme you choose you will not see it acted out in any way; instead an icon will appear briefly above the actors displaying your selection (lips, fist, etc). You will also be tasked with casting the actors for the roles which they will play. The game will not prohibit you from assigning same sex actors to the roles of "the lovers". There are no physical interactions between these actors in the game, but simply the ability to make this choice may be of concern to some. There is a focus on fame and fortune throughout the game as well as the self-centeredness of some of the characters. Players and parents should also be aware that this type of game can be addicting, particularly during gameplay itself as it is difficult to find a stopping point. One positive thing that can certainly be found in Soap Opera Dash is a strong example of cheerfully serving others. The entire game revolves around Rosie giving of herself to meet the needs of those around her.
-Roger
Graphics: 85%
Sound: 87%
Replay/Extras: 87%
Gameplay: 97%
Family Friendly Factor: 83%
System: Personal Computer
Publisher: Playfirst
Rating: 'E' for Everyone
Want more info on this product, or the company that made this product?
Set web browser to:
Link
Got a question, comment, or a concern regarding this review?
Email them to:
Roger@familyfriendlygaming.com