Pixie Hollow
SCORE: 74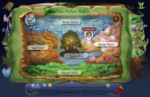 Online MMORPG games have been around and gaining steam for the last 10 years. This genre has been dominated by one called World of Warcraft, but with developers seeing the success of WoW there are more and more options coming to the table. One such option, especially for younger gamers, is Disney's Pixie Hollow. Parents will find Pixie Hollow to be a great alternative to other games on the market. Disney did a great job of building an interactive, family friendly online game with Pixie Hollow.
Pixie Hollow starts with the gamer being able to create and name their very own Fairy. The setup process is very easy and user friendly. When creating the fairy, features that can be edited include hair, skin color, stature, face shape and more. Once the Fairy has been created, a talent is selected – such as gathering, caring for animals to name a few. Before going out into Pixie Hollow alone, there is the option to use the tutorial (highly recommended). The tutorial helps gamers get acquainted with the areas for exploration, control and other gameplay features.
Speaking of gameplay, the game uses the mouse to navigate the screen. This control system is very easy to use. The only issue I had with the controls was at times you accidentally go into unwanted areas without knowing by clicking around the screen to fly. The camera angle is as if the gamer is watching Pixie Hollow through a window, so items such as flowers and branches may appear in the way at times. Also, whenever the gamer selects a game to play, shop to visit or area to visit the loading screen will come up between each one. This is not a major distraction, but can be somewhat annoying when the load times drag. Keep in mind this varies based on your own computer performance and internet speed.
The soundtrack is very nice and appropriate for the game content. Visually speaking, Pixie Hollow is pleasant and very detailed. The character models are well crafted, and the environments inviting.
Some standard features for MMORPG games that are included in Pixie Hollow are maps, collections and quests (given by Tinker Bell). Features I specifically liked included the ability to review other gamers by clicking on their profile, and also earning badges for making friends. Gamers can even use the interface to print out various items based on their Pixie Hollow experience.
For younger gamers this can be a great opportunity to learn about MMORPGs. Parents can use Pixie Hollow to teach about friendship and working together. As with any online game, it is important for parents to remember to monitor their child. Overall, I think Disney did a wonder job with Pixie Hollow. It will give all those little ones the opportunity to create their own Fairy in experience Pixie Hollow for themselves.
- Alan
Graphics: 74%
Sound: 76%
Replay/Extras: 75%
Gameplay: 71%
Family Friendly Factor: 78%
System: Personal Computer/Internet
Publisher: Disney
Rating: 'NR' for Not Rated
Want more info on this product, or the company that made this product?
Set web browser to:
Link
Got a question, comment, or a concern regarding this review?
Email them to:
GameReviews@familyfriendlygaming.com