NCAA Football 11
SCORE: 93


There are few things in life that compare to enjoying a Saturday afternoon watching your favorite college football team take on a bitter rival. And being there in person with 80,000 of your closest friends makes it even more special. Ohio State versus Michigan. USC versus Notre Dame. In my case, Clemson versus South Carolina. Growing up in South Carolina meant Saturdays were for college football. Moving on through college and now adulthood, it is easy to look back and want to recapture that enthusiasm and excitement for those Saturday afternoons. Nothing has been able to do that for me…until now. EA Sports has captured all that is College Football and wrapped it into the most in-depth and realistic College Football video game experience to date with NCAA Football 11.
No more will NCAA Football be considered the little brother to EA's Madden. This year marks the beginning of NCAA Football standing on its own. Using the good foundation NCAA has had in the past, EA added some fantastic features this year that give the gamer that Saturday afternoon experience any time they play NCAA Football 11. The introduction is where it all begins. It is a montage of the top schools running through the tunnels, down hills and tapping signs while Brad Nessler tells everyone that this is what we have been waiting for…College Football. I got chills when I saw the Clemson Tigers run down the hill and touch Howard's Rock. That was it for me…I was all in. These specific introductions of the players are what the gamers can relate to and get excited about.
The excitement doesn't stop there though. If you are familiar with Saturday afternoon football on ESPN, then NCAA Football 11 will be a delight. EA has provided much more ESPN integration from the game graphics and overlays to the Top 25 and news coverage. The stadiums are also more realistic and detailed according to their real life counterparts. Also, the in game lighting effects have been improved which makes for more realistic player models and animations.
One thing EA implemented that is a very welcomed change is sideline catches. That's right, receivers will no longer continue out of bounds for no reason when trying to catch an out route. The new sideline animations look great. Receivers will attempt to drag their feet when making a reception near the sideline. Perhaps the biggest change to gameplay is the new locomotion system. This new system provides more realistic player control and realistic looking player interactions on the field. Gone are the days of using speed burst to try and get through the crowded line of scrimmage. The new and improved blocking mechanics and the new locomotion system makes running the ball more realistic. Acceleration and top speed play more of a factor in each play and play calling, and the outcome is a touchdown for EA!
Gamers will also notice that EA has developed team specific offensive styles. Miami (FL) runs the Pro Style while Georgia Tech is going to pound its opponents with the Option. The playbooks of each team reflect these styles. If your team is known for running no huddle, then get ready to experience it for yourself in NCAA Football 11. When games are loading the offensive styles for the two teams are shown on the screen in a comparison and the strengths of each are given. This will give you a heads-up about the team you are about to face.
EA did a great job of giving on the go gamers some great options for NCAA Football 11. Online dynasties can now be access and managed from your PC, Mac or "i" device from Apple (i.e. iPad). Gamers can manage their team and recruiting, then share their successes in an online dynasty forum for online gamers.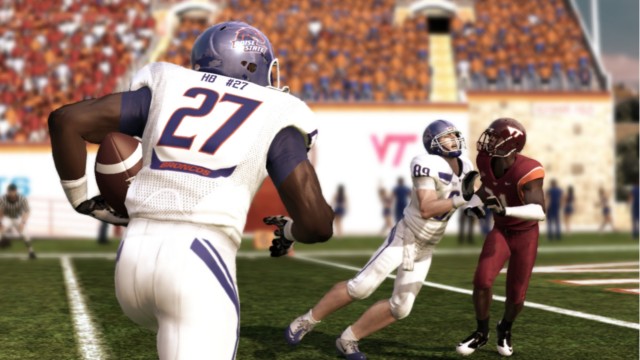 Speaking of Dynasty modes, the Road to Glory makes its return in NCAA Football 11. For newcomers, this is the popular game mode that allows you to create your own High School player and play your way through the High School State Championships in order to earn a scholarship to a big name college. The possibilities are endless! I had the option of starting at Strong Safety for several colleges like Troy and Nevada, or playing 3rd string for Clemson. I took third string at Clemson of course. Through practices and taking advantage of my limited playing time, and the graduation of the starter, I had moved up to the starter by my sophomore year. This mode is my favorite and will provide hours of fun for those die hard simulation fans.
That is not to say the mode is without flaws or disappointments. The Road to Glory is presented as a TV style special that chronicles your success from High School to College star. It is hosted by ESPN's Erin Andrews through various video clips…the same video clips from last years version. I was disappointed that some type of update was not made. I would have preferred to just leave Erin out, rather than watching the same clips from last year. There were also some times when I manually counted up to five or six tackles made, and the end game stats reflected one or two. Most of the time the stats are accurate, so that was not a huge deal to me. Even with a few missteps, Road to Glory is still a satisfying and deep mode.
For those that like the aspect of managing a team, then the Dynasty mode will be for you. What makes the Dynasty mode so successful is the implementation of great recruiting. From calling prospects to planning out their campus visits, there is enough just in the recruiting aspect to keep gamers busy for hours. I found myself wanting the games to end so I could get back to managing my list of prospects.
All of these great improvements and additions for NCAA Football 11 make it a fantastic gaming experience, but it is kept back from its full potential by some small nagging items that hopefully EA can address next year, or even in a patch or two this year. There are still instances where players will walk through the referees, other players or the goal post. This is disappointing when compared to the rest of the graphical presentation. The commentary by Hirbstreit and Nessler is satisfactory, but can get old after a while. It sounds at times that the lines are simply being read off of a card.
But the biggest issue I have with NCAA Football 2011 is the "Play of the Game". Football fans know that there is usually a play of the game that gets attention as being the play that changed the game, or that special highlight play that gets on SportsCenter. Well, that just isn't the case in NCAA Football 11. Playing through the first season of my Dynasty as Clemson I came to a game against Auburn. This game was huge as I had some recruits attending who were also considering Auburn. The game was back and forth. The third quarter started with Auburn up 7 to 5 (I got a safety and a field goal). With Auburn driving down the field, I intercepted a pass and returned it for a touchdown to go up 12 to 7. I later added another touchdown in the fourth quarter. So, when the game was over I was excited to see my interception, or fourth quarter touchdown as the Play of the Game. However, the Play of the Game was the last play of the game where I ran 4 yards up the middle to run out the clock. Through continued play, I found the last play of the game is always the Play of the Game. This is unacceptable considering the capability of the rest of the game. Hopefully this is something EA can get fixed through a patch in the coming months or address next year.
NCAA Football 11 is a game any college football fan would enjoy. I would even recommend to the casual sports fan, as there are enough options and modes to keep gamers entertained for some time. There is even a One Button mode available to those newcomers that will allow them an opportunity to get acquainted with the nuisances of the game. EA provides a great game the entire family can enjoy. Parents can use NCAA Football 11 to discuss competition, strategy, priorities (recruiting) and always trying your best. I really appreciate EA for continuing local multiplayer because this is one game fathers and sons can use to spend some quality time.
Even with a few glitches, NCAA Football 11 is by far the most enjoyable and realistic NCAA football game ever to hit the consoles. The new locomotion system alone takes NCAA Football 11 to a whole new level of gameplay. But when you throw in the new blocking mechanics, online dynasties and team specific offensive styles you get a football experience rivaled only by a Saturday afternoon at a college stadium.
- Alan
Graphics: 90%
Sound: 89%
Replay/Extras: 99%
Gameplay: 94%
Family Friendly Factor: 94%
System: Xbox 360/Playstation 3
Publisher: EA Sports
Rating: 'E' for Everyone
Want more info on this product, or the company that made this product?
Set web browser to:
Link
Got a question, comment, or a concern regarding this review?
Email them to:
GameReviews@familyfriendlygaming.com