Dominion
SCORE: 77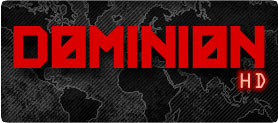 Risk is a game I have enjoyed for years. In fact I played Conquer Club online for quite a few months. I loved their board, but wanted to be able to play them offline. Sadly they do not offer that feature. Dominion on the Iphone/Ipod Touch is a wonderful step in the right direction. This app contains the classic Risk game, and adds various missions. What I really like is Dominion contains different boards. Most of these are the major continents separated out into one board, but it is a step in the right direction.

The colors used in Dominion are really good. They shine against the black background. I could easily distinguish my territories from the other players. The menu screens explain what to do every single step of the way. I did not find any animations while playing Dominion, but that is okay. There is nothing to distract players from the core strategy of this game.

The music in Dominion is fun. I enjoyed the sounds while playing. It gave me a majestic feel that fit the theme of this app. I did not find any offensive language or sounds while playing Dominion on the Iphone/Ipod Touch. The tutorial mode is a nice touch that helps novices get up to speed.
Not only is there quite a few various maps to play, there is also a healthy online community for Dominion. You can play with a fair amount of options as well. To be honest there is more in Dominion than I was expecting. I have played Personal Computer Risk games with less options. Family Friendly Gaming was given a reviewable copy, but I checked the price online and feel Dominion is worth the money. If you like Risk you will enjoy Dominion.
Dominion uses touch screen only controls. I had problems touching some of the smaller territories. This became frustrating because I would want to attack them or place troops there. I will say when the controls in Dominion work, they really work well. When they have problems, you will have to keep trying to get it working. I would love to see a zoom in function in sequels.
Dominion teaches players to dominate the world. This is done through strategy, and rolling of dice. I personally have never considered Risk to be violent. You are never shooting anyone. You are strategically deciding which territories to try and capture. I am sure how Dominion picks the dice that are rolled. That part of this game is automated. Dominion can teach players to not over-extend themselves, and when to go for it. Patience is usually rewarded in games like this one. I would love to see sequels, and possibly a port to the Wii or DS. I would be very interesting in various kinds of different boards tried.
- Paul
Graphics: 80%
Sound: 76%
Replay/Extras: 88%
Gameplay: 63%
Family Friendly Factor: 78%
System: iPhone/iPod Touch
Publisher: Chillingo Ltd
Rating: '4+' for 4+
Want more info on this product, or the company that made this product?
Set web browser to:
Link
Got a question, comment, or a concern regarding this review?
Email them to:
pbury@familyfriendlygaming.com