Davids Knockdown
SCORE: 80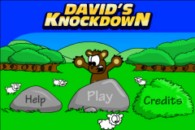 David's Knockdown is a fascinating little app on the Ipod Touch/Iphone that comes from the Christian video game company A Little BC. Players get to take on the role of a young David. He must protect the sheep from the various predators. David's Knockdown starts out pretty easy, but brings in tougher animals like bears and lions later. I was very pleased to see some Bible verses on certain screens. Miss a creature and you will lose a sheep. Hit a sheep and you will also lose a sheep. You only have a few to protect so it very important to be quick and accurate in the seven levels this hand held video game contains.
The bright and colorful graphics of David's Knockdown really made me smile. It also drained the battery pretty quickly too. But that is neither here nor there. Players must launch stones via the slingshot to knock down the predator. A well placed shot will make them explode like a balloon. There is no blood or gore in David's Knockdown. The predators look more like pieces of paper glued on to a stick to me.
I really enjoyed the music in David's Knockdown. It was upbeat, positive, and got my blood pumping. Which is needed for a shooting kind of video game like this one. As I previously mentioned there are Bible verses that can be read on certain screens. They relate to the historical era this game depicts. I did not find any offensive sounds while playing David's Knockdown on the Ipod Touch/Iphone.
There are only seven levels to David's Knockdown. You can replay them to score higher, but honestly after an hour I was done with this game. Now it only cost me 99 cents, so that has to taken into account. I would have loved some upgrades to the slingshot, or other unlockable content. Maybe in a sequel or a port.
It took me a few tries to figure out how to control David's Knockdown. I kept wanting to pull the slingshot back. I found that touching the animal and tracing back to the slingshot (with my finger) was how to launch stones far enough. We ran into a few issues with lag while playing David's Knockdown that were frustrating. We also ran into issues with the control scheme. With all of that written, I had fun playing this Ipod Touch/Iphone video game.
David's Knockdown has quite a few nice parallels that families can discuss. First off there is the issue of predators trying to steal away sheep. Then there is protecting sheep from those trying to do harm. I do believe that David's Knockdown is a great start to what could be a wonderful franchise. I am looking forward to future games from A Little BC.
- Paul
Graphics: 78%
Sound: 92%
Replay/Extras: 70%
Gameplay: 73%
Family Friendly Factor: 89%
System: iPhone/iPod Touch
Publisher: A Little BC
Rating: '4+' for 4+
{Mild Lyrics}
Want more info on this product, or the company that made this product?
Set web browser to:
Link
Got a question, comment, or a concern regarding this review?
Email them to:
pbury@familyfriendlygaming.com