Arcade Air Hockey and Bowling
SCORE: 89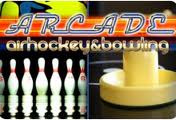 Icon Games Entertainment has been making an amazing name for themselves. Their Mini games have been improving. Arcade Air Hockey & Bowling contains both games, and it shows some real promise. This game can be played on the Playstation 3, and the Playstation Portable. Whoever came up with that concept is a genius. It is something we have asked for at Family Friendly Gaming for years now.
The Air Hockey table looks fantastic. I am amazed with how realistic it looks. A few others here that watched me play commented on how there were no hands on the handles, or no human with the ball. Personally I feel those images get in the way of what is really important - the game play. There are a few female characters who could be wearing a little more. Thankfully it is only a few of them, and the majority are dressed appropriately. The bowling lanes are adequate looking. I have seen better, and I have seen worse.
The music is okay in Arcade Air Hockey & Bowling. If you have played previous Icon Game Entertainment products then you know what to expect. I found it interesting that occasionally there was the sound of a cell phone going off in the game. When I first heard this, I was looking around to see if someone's left their phone with me. Don't laugh because that kind of prank happens. I found no offensive language or sounds in Arcade Air Hockey & Bowling.
Arcade Air Hockey & Bowling costs $3.99. Which is two dollars a game. That is absolutely insane. Family Friendly Gaming was given a reviewable copy, but I feel Arcade Air Hockey & Bowling is worth the price of admission. There are so many different ways to play these two games, and unlockable content that you will spend weeks with this game. Families can enjoy Arcade Air Hockey & Bowling in the 2 player HotSeat mulitplayer mode.
I had a lot of fun playing Arcade Air Hockey & Bowling. I am not the only one though. Others here at Family Friendly Gaming also had a blast with this downloadable game. The instructions that are included will help you in case you are having problems figuring out how to play either of the games. The controls are great in Arcade Air Hockey & Bowling, and there are multiple ways of controlling things. It took me a few tries to figure out the best way to play the Bowling game, but that is part of the fun in my opinion.
I hope to see sequels to Arcade Air Hockey & Bowling in the near future. Icon Games Entertainment is really showing us something. They have made improvements over their last batch of games, and they are going the right direction. I will be recommending Arcade Air Hockey & Bowling to family and friends. I hope our wonderful readers will check this game out. Who doesn't like Air Hockey? You get Bowling too.
- Frank
Graphics: 83%
Sound: 85%
Replay/Extras: 98%
Gameplay: 93%
Family Friendly Factor: 90%
System: Playstation 3/Playstation Portable
Publisher: Icon Games Entertainment
Rating: 'E' for Everyone
Want more info on this product, or the company that made this product?
Set web browser to:
Link
Got a question, comment, or a concern regarding this review?
Email them to:
GameReviews@familyfriendlygaming.com