a boy and his blob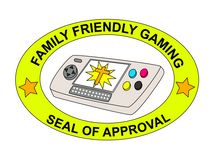 SCORE: 95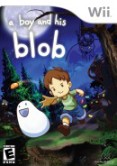 I remember a boy and his blob on the Nintendo Entertainment System very fondly. An action adventure video game with puzzle elements. When I heard Majesco Entertainment was publishing a remake, I got very excited. This Wii game is everything I hoped for, and more. Players are a little boy who has a white blob that follows them around. Giving the blob jelly beans will allow it to morph into different things. Some examples are a rocket, balloon, cannon, hole, trampoline, ladder, and more. The bad little creatures are black with yellow eyes.
The graphics in a boy and his blob are very friendly to the family. There are various colors used, and the art style is fantastic. The most violent this Wii game gets is dropping blocks on the bad guys. Avoiding violence is the main game play mechanic in a boy and his blob. I found it very cute to see the little boy hug his blob. If the little boy takes a hit, he falls down, and the player is reset to the last little continue point.
The music in a boy and his blob is exceptional. The player calls the blob to them, and those sound bytes never get old. The developer wayforward included enough of them to keep the sounds fresh. I did not find any offensive sounds while playing a boy and his blob on the Wii.
Gamers will easily spend weeks unlocking all of the content in a boy and his blob. There are a good amount of extras, and a lot of hidden secrets throughout multiple paths. Exploration is one of the key elements of this game. The treehouse (where the player starts the game) gets more content as the player finds additional treasure chest. Only one player can play a boy and his blob at a time, however I feel it is worth the price of admission.
The gameplay in a boy and his blob is perfect. Players work with their blob to progress through each level. The puzzles start out easy, and get more difficult as the game unfolds. The overwhelming majority of non-violent game play resonates here at Family Friendly Gaming. I had a blast playing a boy and his blob on the Wii.
I believe Majesco Entertainment should be commended for releasing this Wii game. The rarely given seal of approval is being bestowed upon a boy and his blob. I would love to see sequels to this home console video game. I learned how to think through various puzzles while playing a boy and his blob. I will recommend this game to friends, family, and pastors I am affiliated with.
- Frank
Graphics: 90%
Sound: 95%
Replay/Extras: 94%
Gameplay: 100%
Family Friendly Factor: 94%
System: Wii
Publisher: Majesco Entertainment
Rating: 'E' for Everyone
{Mild Cartoon Violence}
Want more info on this product, or the company that made this product?
Set web browser to:
Link
Got a question, comment, or a concern regarding this review?
Email them to:
GameReviews@familyfriendlygaming.com