Toy Home
SCORE: 79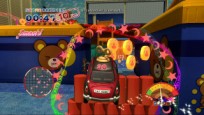 Toy Home brings back memories of playing with cars in the living room of my parent's brick built home. Sony has players rotating the six axis controller to simulate a steering wheel. This works even worse than it sounds. The light hearted toy room theme is nice to see, although there is a violent battle mode in this Playstation 3 downloadable video game (editor: meaning not found on store shelves).
The ESRB bestowed an 'E' for Everyone rating, and they could not find any descriptors to describe the Mario Kart style of violence in the battle mode. This makes no sense to this reviewer at all. Sony may have mega bucks as a company and the ESRB might be looking the other direction when it comes to accepting their word for the in game content. But double standards like this really make one wonder where all the 'investigative reporters are?' Why some people want to blow each other up inside video games makes little sense to me.
The sounds are okay, as car sounds are found within this PS3 video game. Some of the sounds effects did not seem to fit for me. If you can handle the horrible controls then there is some replay value to be had. Sony is also selling this game for a low price that will interest quite a few gamers. I still would not consider Toy Home to be worth your hard earned dollars. The violent battle mode is one of the biggest issues with this Playstation 3 video game morally and ethically.
Toy Home is not a game for all ages, despite what the out of touch ESRB says. This game deserved an 'E10+' rating as a minimum. Destruction, mayhem, and doing whatever to get your way is the major lessons Sony teaches with Toy Home. Trust me and pass on Toy Home for the Sony Playstation 3 - you will thank me later.
- Frank
Graphics: 78%
Sound: 82%
Replay/Extras: 84%
Gameplay: 74%
Family Friendly Factor: 79%
System: Playstation 3
Publisher: Sony
Rating: 'E' for Everyone
Want more info on this product, or the company that made this product?
Set web browser to:
Link
Got a question, comment, or a concern regarding this review?
Email them to:
GameReviews@familyfriendlygaming.com