Tales of Monkey Island Episode 3
SCORE: 72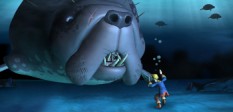 Tales of Monkey Island, Lair of the Leviathan, is the third episode of the new TellTale Games epic saga featuring the pirate hero Guybrush Threepwood. For those readers not familiar with the new Monkey Island series, TellTale is releasing the 5 episodes of the Monkey Island puzzle, problem solving game over a five month period (one episode each moth). The individual episodes can be purchased for $8.95, while the entire five episode saga is available for $34.95.
If you have not played the first two episodes, I would suggest running through those first before jumping into Lair of Leviathan. It is not a requirement (as there is a quick prologue explaining the prequels), but knowing the circumstance of the plot make it easier to understand what is going on between the characters. Lair of Leviathan opens with Guybrush finding himself inside of a giant manatee. There are various characters within the beast with whom Guybrush must interact.
The gameplay developed by TellTale works really well throughout the game. The camera follows the characters around in a third person angle. Characters, environments and items abound and are available for interaction. Once a character is selected for interaction, cut scenes will walk you through the conversations and will give the gamer various responses (when applicable). These conversation and interactions guide the gamer through the puzzles in the game. As with other TellTale games, the "hint" setting can be changed in order to suite ones puzzle skills.
The in-game graphics and cut scenes are bright and colorful. Environments are very detailed and provide a nice backdrop to the interesting characters. Speaking of interesting characters, the wonderful voice acting brings these characters to life!
Lair of the Leviathan can be an entertaining game, especially for those who like the problem-solving, puzzle genre. However, this game does contain some not so family friendly content. Right from the start the gamer is presented with indecently dressed women and inappropriate humor. Also, the game is based on a problem that came from voodoo practices, and contains a good bit of this throughout the game, as well as drinking. This is not a game for young children, and I would even suggest parents playing this first to decide if they want this available for their children.
There are lessons that can be learned from Lair of the Leviathan. These include patience, problem solving skills and parents can also discuss types of humor that may or may not be appropriate.
If you are a fan of Monkey Island and other problem solving games then you will definitely want to add this game to your collection.
- Alan
Graphics: 75%
Sound: 78%
Replay/Extras: 70%
Gameplay: 82%
Family Friendly Factor: 62%
System: Wii/Personal Computer
Publisher: Telltale Games
Rating: 'E10+' for Everyone 10+
{Alcohol Reference, Cartoon Violence, Mild Language, Suggestive Themes}
Want more info on this product, or the company that made this product?
Set web browser to:
Link
Got a question, comment, or a concern regarding this review?
Email them to:
GameReviews@familyfriendlygaming.com