Go Sudoku
SCORE: 90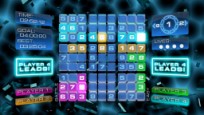 Go Sudoku on the Sony Playstation 3 is one of those downloadable gems that gamers can play without ever having to leave the comfort of their living rooms. Of course going out and getting some fresh air, sun, and exercise would be a lot better. Alas I am digressing about real life and not the fantasy realm the PS3 offers.
Go Sudoku is a form of the Sudoku that is found in newspapers, books, and generally all over. If you are not familiar with it let me explain. There is a grid with some numbers on it. There is a unique one to nine number vertically, horizontally, and in each of the three by three grids (multiple ways). Place the right numbers, and solve the puzzles as quickly as possible. For the first time player do not feel bad if it takes a few games to get the feel of how Go Sudoku plays.
There are some nice special effect graphics in this Playstation 3 video game. I really enjoyed the sounds found within Go Sudoku as well. There are a lot of Sudoku boards to solve, along with playing against other people. Go Sudoku is bargain priced in Sony's online store to the point that I feel this is the kind of a video game that is worth your extremely hard earned dollars.
The gameplay is pretty simple of moving around to the right boxes, and selecting the appropriate number. The only way I can see the controls getting better is if they had the Wii Remote style of interface. But Sony won't be getting that any time soon. Go Sudoku is the right kind of video game for the Sony Playstation 3. It can help improve Sony's tarnished image in the video game industry, and it is safe for the entire family. The complexity of Go Sudoku means not everyone in the family will be able to play this game though. The only possible concern I have with Go Sudoku is the possibility of addiction affecting your life thanks to this PS3 game.
- Paul
Graphics: 85%
Sound: 91%
Replay/Extras: 95%
Gameplay: 87%
Family Friendly Factor: 92%
System: Playstation 3
Publisher: Sony
Rating: 'E' for Everyone
Want more info on this product, or the company that made this product?
Set web browser to:
Link
Got a question, comment, or a concern regarding this review?
Email them to:
pbury@familyfriendlygaming.com