Free Realms
SCORE: 76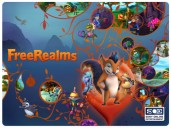 Free Realms is a Massively Multiplayer Online game from Sony Online Entertainment. For those not familiar with an MMO, they are online video games that are capable of supporting hundreds or thousands of players simultaneously. Free Realms is a Role Playing MMO game that allows players to enjoy a wonderfully designed, 3D world. The Free Realms interface is very user friendly and will only take a matter of minutes to setup a free account. Once an account is setup, the player can create and customize the new online character. If gamers want to enjoy bonus content and access to extra job opportunities, a "Members Only" subscription can be purchased for a recurring monthly fee of $5. I think a free account provides plenty of gaming experience for those new to MMO's, or those wanting to try the game before investing the monthly fee.
There are multiple character types to choose from, including humans and fairies. One aspect of the game I really enjoyed was the ability to perform different jobs and quests without having to create different characters. One minute I was a postman dressed in full postal gear, and the next I was an Adventurer running around tagging turtles. The developers did a wonderful job of providing plenty of activities to keep the gamer busy for hours of fun and entertainment.
As I was strolling through some of the various regions, it was very easy to find a mini game or activity in which to participate. They included checkers, chess, tower defense games, time trials for delivering items, tagging animals, car racing and the new addition of soccer. There is also the opportunity to get pets and care for them.
Graphically speaking, Free Realms presents a nicely developed, imaginative world that immerses the gamer into a fairy tale world. The detail in the characters and settings is very noticeable, and greatly appreciated. The gameplay was straight forward in the various modes. Players could choose from explorers, warriors, and even learning a card game (I appreciated the tutorial in the card game). Again, there is more than enough to keep gamers coming back for more. Certain female characters can dress in a questionable way.
The one area that may be of concern for some gamers, or their parents, may be the battle sequences and/or some of the characters in the game. The battles are nothing extreme, but are worth noting. Trolls, fairies and other creatures are in abundance throughout Free Realms. Although I had no problem with the depiction of these characters, I wanted to at least bring them to your attention. One way this can be used effectively in discussion with children, is to review the importance of knowing others may be different from us and that is ok in God's eyes.
My time playing Free Realms was very enjoyable. This game is rated E10+ and can be enjoyed by teens and adults. MMO Role Playing games are not for everyone, but if you are a fan of these types of games, then Free Realms is definitely a game I recommend.
- Alan
Graphics: 71%
Sound: 76%
Replay/Extras: 81%
Gameplay: 78%
Family Friendly Factor: 74%
System: Personal Computer
Publisher: Sony Online Entertainment
Rating: 'E10+' for Everyone 10+
{Crude Humor, Fantasy Violence}
Want more info on this product, or the company that made this product?
Set web browser to:
Link
Got a question, comment, or a concern regarding this review?
Email them to:
GameReviews@familyfriendlygaming.com