Droplitz
SCORE: 82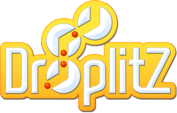 I spent a few minutes playing Droplitz at E3 in the year of our Lord 2009. It felt like a fun little puzzle game that would compliment the Xbox 360, Playstation 3, and Personal Computer video game libraries. Thanks to our fantastic friends over at Atlus I have been digging into Droplitz, and it has impressed me more than I expected. Little drops are flowing down from the top, and the player must set up the pipes so they make it to the bottom. Droplitz reminds me of various different video games from the past, but it is also something completely its own. This is a download only game that I am pleased to see Atlus release.
Droplitz has some fantastic themes to it in regards to the color schemes. Various areas have specific color schemes and backgrounds. The drops are the appropriate sizes, and the color change when a path is made is perfect. I love the details in the background images. I did not see any offensive images while playing Droplitz.
The peaceful music in Droplitz brings one word to mind - serenity. I found that this puzzle game relaxed me whether I did well or had problems. Aside from the Zenses games, Droplitz has some of the most soothing sounds I have ever heard. I heard no offensive sounds while playing this game.
Droplitz has months of replay value to it. This game is selling for $9.95, so it is worth the price of admission in my opinion. Atlus made sure that plenty of modes, and unlockables were included in Droplitz. Online scoreboards, leaderboards, and achievements are part of this video game.
The controls in Droplitz are simple to learn, and easy to use. Move around the board, and rotate the pipes to get the flow to go through. This sounds simple, yet there is some fantastic strategy. I found some amazing things I could do, like two drops from the top going into the same path. I also loved linking things up and making two paths in a circle. I had a lot of fun playing Droplitz, and believe most gamers will as well.
I would love to see sequels to Droplitz. In fact I think this would make a perfect portable game (Nintendo DS and/or Playstation Portable). Droplitz teaches pattern recognition, planning, and following a flow. It was my personal joy and pleasure to play, and review Droplitz on the PS3. This game is safe for the entire family. I will also be recommending this game to my pastor.
- Paul
Graphics: 84%
Sound: 79%
Replay/Extras: 89%
Gameplay: 83%
Family Friendly Factor: 76%
System: Personal Computer/Xbox 360/PS3
Publisher: Atlus
Rating: 'E' for Everyone
Want more info on this product, or the company that made this product?
Set web browser to:
Link
Got a question, comment, or a concern regarding this review?
Email them to:
pbury@familyfriendlygaming.com