Bible Minis
SCORE: 79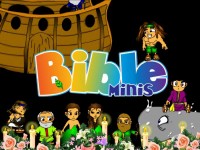 The WMG was very excited to find out about Bible Minis on the Personal Computer (PC) through a friend. This independently developed video game looked similar to Jewels of Sinai which was very well received here at Family Friendly Gaming (editor: in the TOP TEN Listing for the PC video games). Cyanimation, Inc. has this game available online via a download. A free one hour demo is available, or twenty US Dollars purchases it. So the question the WMG is going to answer is this - is Bible Minis worth one of your President Jackson's?
Bible Minis is bright, colorful, and upbeat in the graphical department. The problem is the art work. It does not show a lot of polish. Now this is from an independent developer, but there are plenty of puzzle games on the market that are in the exact same vein, but look a whole lot better. Like it or not, Jewels of Sinai became a standard for this kind of puzzle game, and Bible Minis does not measure up.
Bible Minis has some nice pleasant, relaxing, and soothing music included. There is never a rush to do anything like figure out which move to do next. Sadly that works against this kind of a game, because finishing a level should be encouraged.
If you find that you like the laid back approach to matching three or more of the same vases by swapping two of them, then there is a decent amount of replay value in Bible Minis. There are not a lot of extras, so what you see is pretty much what you get. Readers love Family Friendly Gaming because we almost always answer the question about your money and said game. I like what this developer did, hate to say it, but Bible Minis is one I would pass on. There are better ones on the market for the same price or less.
The WMG had some real problems projecting how the vases would fall (editor: but never break) after three were removed. The pattern in Bible Minis does not follow the rest of the pack, which lead to confusion. The special attacks are also lacking greatly. Bible Minis was okay to play, but not nearly as fun as Jewels of Sinai.
Bible Minis is safe for the entire family, and a good start for independent developer Cyanimation, Inc. The WMG would like to see more games from them, especially if there is some additional polish added. Bible Minis is a game most pastors would enjoy in the WMG's ever so humble opinion.
- Working Man Gamer
Graphics: 68%
Sound: 82%
Replay/Extras: 84%
Gameplay: 72%
Family Friendly Factor: 90%
System: Personal Computer
Publisher: Cyanimation, Inc.
Rating: 'NR' for Not Rated
Want more info on this product, or the company that made this product?
Set web browser to:
Link
Got a question, comment, or a concern regarding this review?
Email them to:
WorkingManGamer@familyfriendlygaming.com