Valhalla Knights 2
SCORE: 66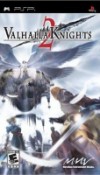 Ultra hardcore role playing gamers can rejoice now that Valhalla Knights 2 has arrived. Maybe they will, and maybe they won't. The original Valhalla Knights was a fairly decent role playing game on the PSP that left a lot of the problems with the genre at the door. The RPG Master is not clear why Marvelous Entertainment USA, and XSeed Games decided to let some of that in - this time out. Instead of taking out a bad guy, this game has the player taking down a goddess who came to judge mankind (aka Judgment Day from the Bible where God will judge mankind). In the highest form of hubris the player must try and stop this from happening. That is the bad news, the good news is the story is rarely touched upon. To be brutally honest the RPG Master almost forgot the storyline while leveling up.
Valhalla Knights 2 is dark graphically. Not in terms of content, but in the literal sense of the word. There is still the hack and slash violence as the player wades through thousands of monsters. Those things reproduce faster than rabbits. There are also some female characters who dress in a way to entice lust (editor: they can be avoided by selecting male characters). The 3D dungeons have good details to them though.
The music continues to impress in Valhalla Knights 2, but the bad language, and poor attitudes of many of the characters bring this game down. The RPG Master still feels there could be more special effect sounds in this franchise. The message of not trusting the gods was a startling, and controversial one.
Valhalla Knights 2 continues the proud tradition of countless hours of replay that the original started. There are a lot of stats, and players can build fantastic characters if they are willing to put the time in. Valhalla Knights 2 includes co-op modes so you can play with others.
The controls work generally in Valhalla Knights 2. Traversing around corners can be fun at times. Getting turned around and accidentally backtracking can happen too. Speaking of backtracking, players spend half of their time backtracking. In other words having to go back to town to sell items, purchase things, rest, and save is common place. Then there is the items issue. An analysis card is needed to identify ever item, even if it is the hundredth time the player finds an aid flask.
The RPG Master had such high hopes for Valhalla Knights 2 on the Sony Playstation Portable. Unfortunately this franchise choose to take a different path in most of the reviewable sections. The whole goddess thing does not work well in America, and has been way over done in RPG's. A sequel would be welcome if the franchise returns to its roots. The first one is better in this reviewers qualified opinion.
-RPG Master
Graphics: 61%
Sound: 64%
Replay/Extras: 79%
Gameplay: 72%
Family Friendly Factor: 56%
System: Playstation Portable
Publisher: XSeed Games
Rating: 'E10+' for Everyone 10+
{Alcohol and Tobacco Reference, Mild Language, Violence}
Want more info on this product, or the company that made this product?
Set web browser to:
Link
Got a question, comment, or a concern regarding this review?
Email them to:
GameReviews@familyfriendlygaming.com