Uno
SCORE: 87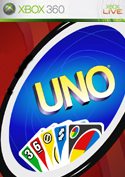 Uno has been a favorite card game of families for quite some time. Uno is some of the good clean fun that Family Friendly Gaming embraces. I have so many fond memories of playing friends and family in Uno games that I could write pages on that topic alone. Microsoft has been doing their small part to court families by developing games like Uno on the Xbox 360. This game is a different feel than actually sitting down with three other people, and dealing out the cards. But there are rare occasions when I can't get three friends, or family members to sit down and beat me at a game of Uno.
The graphics are nice, bright, and colorful, although a bit drab in some areas. The sounds department is the worst section of this game (somewhat above average) due to the elevator styled music, and lack of voices shouting out UNO! The only potential for offensive sounds is if one is playing via Xbox Live, and comes across those enslaved to profanity.
This is the kind of game that can be played, and replayed for quite a bit of time. It did however make me yearn for playing real live Uno, and not this kind of a simulation. The computer played characters are utterly ruthless, and the difficulty level seems to be tweaked towards you better brings your best game if you hope to win. The game does a good job of shuffling the deck, and making the cards come up out of the deck randomly.
It is really nice that the Xbox 360 has been getting some legitimate use, and a reason to play it. Families can actually take an interest in purchasing this system, as more family friendly titles like Uno are becoming available. Uno being played offline is a completely safe, and excellent use of your financial resources. If you are not sure, you can freely download it off of Xbox Live if you have it connected to the internet, and have an Xbox 360.
- Paul
Graphics: 82%
Sound: 79%
Replay/Extras: 94%
Gameplay: 88%
Family Friendly Factor: 93%
System: Xbox 360
Publisher: Microsoft Game Studios
Rating: 'E' for Everyone
Want more info on this product, or the company that made this product?
Set web browser to:
Link
Got a question, comment, or a concern regarding this review?
Email them to:
pbury@familyfriendlygaming.com