Timothy and Titus
SCORE: 84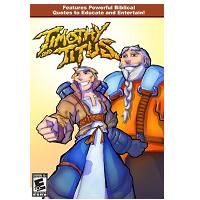 I had almost written off Timothy and Titus as vapor ware. It had been over two years since I sent White Knight Games some money for the deluxe edition of the game. We had moved the offices for Family Friendly Gaming, and I had to get in touch with the developer to make sure my copy was resent. I didn't get the deluxe version but there was some problem with the producer that led to the delay (editor: working on getting some inside information on that to pass along to our readers). Gamers get to play Timothy and Titus (swapping the characters in and out) as the situation warrants it. There are normal attacks and special attacks to take care of those trying to stop the heroes from retrieving Paul's letters. There are quite a few wonderful areas explored included Rome while it is burning down.
The graphics in Timothy and Titus are a bit dated. This is after all a two year old game that would have looked good at that time. There are some nice visual effects throughout the game that are worth a mention. The violence is mild, and there is no blood or gore. I really like the art style used in Timothy and Titus.
I found the sounds in this Personal Computer video game to be pleasing. The music adds a real thematic element to Timothy and Titus in a way that fits perfectly. The voice acting is good, although a little humor would have helped. Most of the characters are respectful, and even the bad ones were toned down a little bit.
The one complaint I have about Timothy and Titus is the length of the game. Each of the levels can take some time to complete, but there are not a lot of them. This is one of those video games that I was really starting to get into, and then it was done. There are secrets to find if you want to look through every nook and cranny.
Timothy and Titus shows that Christian video game development is steadily improving. I only ran into a couple of small glitches while playing which had more to do with my computer than the game itself. I had fun playing this PC game from start to finish. I wish there had been some better default controls, but that comes from being more of a console gamer. I love how many different skills are included within Timothy and Titus.
Timothy and Titus needs to be on one of the home video game consoles. It would be perfect as a downloadable game on the Xbox 360. I would love to see some sequels to this franchise in the near future. It was my joy to play and review Timothy and Titus for the Personal Computer.
- Paul
Graphics: 81%
Sound: 90%
Replay/Extras: 79%
Gameplay: 83%
Family Friendly Factor: 85%
System: Personal Computer
Publisher: White Knight Games
Rating: 'E10+' for Everyone 10+
{Fantasy Violence}
Want more info on this product, or the company that made this product?
Set web browser to:
Link
Got a question, comment, or a concern regarding this review?
Email them to:
pbury@familyfriendlygaming.com