The Tomb of Moses
SCORE: 90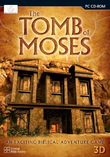 Family Friendly Gaming gets a real thrill out of working with independent developers. These developers routinely try things the big boys won't because they might offend some insignificant amount of people (editor: no matter if they offend the majority). The Tomb of Moses is a Christian PC video game from Vida Entertainment, and is a mystery thriller. The First Person Perspective is used for this Personal Computer video game. The click of a mouse stops the player from moving and the environment can be explored for needed items.
The Tomb of Moses should not tax your computer unless it is a really old one (like more than three years). The feeling of mystery and intrigue fits the theme. The downside to that is the graphics can be dark in places. The details in The Tomb of Moses are okay, but get bland in a lot of different spots. There is some nice attention to detail in different rooms like all the books in the bookcase for an example. The WMG did not find any offensive graphics while playing this video game.
The Tomb of Moses contains some nice little voice acting when the player reads a letter, interacts with a telephone, or other such devices. It really shows that the audio department got a good amount of time spent on it. The mood and feel of this game comes across loud and clear.
Good luck trying to solve all of the mysteries found within The Tomb of Moses. The WMG was taxed to the max trying to solve these puzzles. A little help was needed to get through this masterpiece. Once the lengthy mystery is solved the player can go online and answer a question to have their name posted online. This is one PC video game that the WMG feel is worth your hard earned dollars.
The controls work like a champ in The Tomb of Moses. The mouse moves around just as it should, and the same can be said for the moving around. The WMG did find a spot where the WMG got stuck, however going back to my last save took care of it. Be sure to save often. The level of difficulty in The Tomb of Moses can get intense, and it comes with a label for the age of eleven or older.
The Tomb of Moses is good clean video game fun. It is also one of the most difficult Christian video games the WMG has ever played. The clues are hidden in a very intelligent manner making players look under every nook and cranny. A sequel is needed to this video game especially if the graphics are improved.
-Working Man Gamer
Graphics: 77%
Sound: 94%
Replay/Extras: 95%
Gameplay: 89%
Family Friendly Factor: 96%
System: Personal Computer
Publisher: Vida Entertainment
Rating: 'NR' for Not Rated
{Age: 11+}
Want more info on this product, or the company that made this product?
Set web browser to:
Link
Got a question, comment, or a concern regarding this review?
Email them to:
WorkingManGamer@familyfriendlygaming.com