MLB08 The Show
SCORE: 93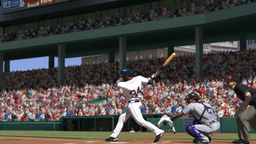 MLB08 The Show is the best baseball simulation video game I have ever played. Sony has packed this Playstation 3 (PS3) video game with so many different options, modes, and customization that even hardcore baseball gamers will be spending months playing with them. Every year the MLB series gets a little closer to what it is like to be in a real baseball game. MLB08 The Show feels like being there in the stadium most of the time. The main emphasis is on the pitcher/batter duel. Just like in real baseball I could get away with a mistake here or there, but go to the well once to often and I got burned.
The graphics in MLB08 The Show on the PS3 are amazing. The animation given to the players, along with the detail are getting closer to real life. Not quite there ya'll, but the similarities are stunning. I like to see how the fans look in the stands and they are done in 3D models. The only drawback I saw is some of them are repeated a little too often in the stands. The little animations like how a player rotates the bat, or the pitcher reading the signs make this a game to pay attention to.
The sounds are good in MLB08 The Show as well. The announcers are spot on with their commentary almost all the time. The umpires are a bit late in their calling out foul balls, but the announcers already told me. There is a jukebox function with music included. None of it was to my personal liking; however MLB08 The Show lets the player build their own soundtrack so that is pretty cool.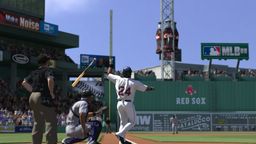 Like I mentioned earlier there are a lot of modes in MLB08 The Show. The only drawback to this PS3 game is only one player can play this game locally. Other players can be played across the internet, but you can not sit down and have two people play each other. This is one game that is worth your money if you are a baseball fan though.
Sony made sure that a novice could walk into MLB08 The Show and play it. This is a baseball simulation so hardcore number crunchers find this game is also made for them. The catcher suggests what pitch to use and where, but you can go with what you want to do instead. Batting can be as easy as hitting one button, or guessing the pitch and location. Fielding works well, although you may want to find out all the button combinations because I did not know how to send a runner in from third during a long fly ball.
The announcers can be pretty encouraging at times about being more patient. MLB08 The Show needs sequels because this franchise is really coming into its own now. This PS3 game is safe for the entire family.
- Paul
Graphics: 96%
Sound: 90%
Replay/Extras: 97%
Gameplay: 94%
Family Friendly Factor: 87%
System: Playstation 3
Publisher: Sony
ESRB Rating: 'E' for Everyone
Want more info on this product, or the company that made this product?
Set web browser to:
Link
Got a question, comment, or a concern regarding this review?
Email them to:
pbury@familyfriendlygaming.com