Gunpey
SCORE: 69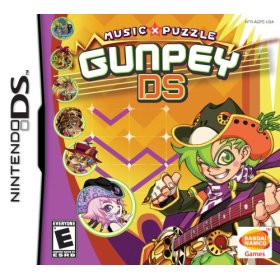 I had such high hopes for Gunpey on the Nintendo DS, since it got an 'E' for Everyone rating while the PSP version got an 'E10+' for Everyone 10 and older rating. Unfortunately the ESRB seems to be snoozing again in their ratings. Gunpey on the Nintendo DS deserves an 'E10+' rating at a minimum. This game has a bit of a western theme, and ties music into it somehow. The whole musical part never made any sense to me though. The character carry something that looks part gun, and part instrument. The action of the game is moving squares up and down in order to draw a line from left to right across the screen.
Gunpey has some wild graphics that are very artistic. The colors are generally bright, although sometimes a bit confusing. Female characters are dressed in a way to entice to lust. Why is that needed in a puzzle game? The puzzle action is good enough without bringing it down into the muck.
The sounds in this version of Gunpey are okay. I did not catch any lyrics while playing, so that would be an improvement over the PSP version. I found the music to be very upbeat, and energetic even though I was not familiar with any of it.
Gunpey on the DS has more replay value in my humble opinion than the PSP version does. The different characters that are unlockable give a much better reason to replay. There are some different modes, but the core action is generally the same. If making lines from left to right bores you, then you will not find much replay value here.
I ran into some weird problems while playing Gunpey. At times the tiles (or blocks) would double switch if I kept my finger on the space too long. I always had time to recover, but it was a weird glitch. The rest of the controls work well. I question how intelligent the design is because most of the time I was waiting for one of two columns to appear (the edges).
Gunpey had a very good shot of being a fun, and cute little game. Unfortunately this one is a wolf in sheep clothing with some occasional cartoon violence, and enticement to lust issues. I like the puzzle concept of this game, and if Namco Bandai can drop the garbage content then sequels would be welcome. They also need to add some variety to the kinds of lines.
- Paul
Graphics: 66%
Sound: 73%
Replay/Extras: 75%
Gameplay: 70%
Family Friendly Factor: 63%
System: Nintendo DS
Publisher: Namco Bandai
ESRB Rating: 'E' for Everyone
Want more info on this product, or the company that made this product?
Set web browser to:
Link

Got a question, comment, or a concern regarding this review?
Email them to:
pbury@familyfriendlygaming.com