Gran Turismo 5 Prologue
SCORE: 84

It may take a few people a few minutes to comprehend what Gran Turismo 5 Prologue is. This is a $39.99 (US Dollars) super demo of the upcoming Gran Turismo 5 Playstation 3 video game. In many regards Gran Turismo 5 Prologue outdoes some racing games currently on the market. The core action of this video game is racing vehicles, earning money, and then buying more expensive vehicles. A Honda and a Ferrari feel vastly different, earning Gran Turismo its realistic driving simulator mantra.
The graphics in Gran Turismo 5 Prologue have to be seen to be believed. Polyphony Digital certainly knows what they are doing, and Gran Turismo 5 Prologue may be the best looking Playstation 3 video game to date (editor: at least in terms of family friendly titles). The attention to detail is simply astounding, as is the lighting effects. I would have liked the choice of brighter colors for the paint schemes (maybe in Gran Turismo 5). There is also no option to create ones own paint scheme which some other racing titles have.
The music in Gran Turismo 5 Prologue has a lot of polish to it. I really like the intro theme music, and the music on the menu screens. The in game music is a mix of secular songs that range from okay to having some negative attitudes in the lyrics. Thankfully the options allow the player to turn the music off. There was no option to pick and choose certain songs, nor did I find an option to import my own songs. The sounds of the cars is excellent, except when I found myself spinning out on the sand.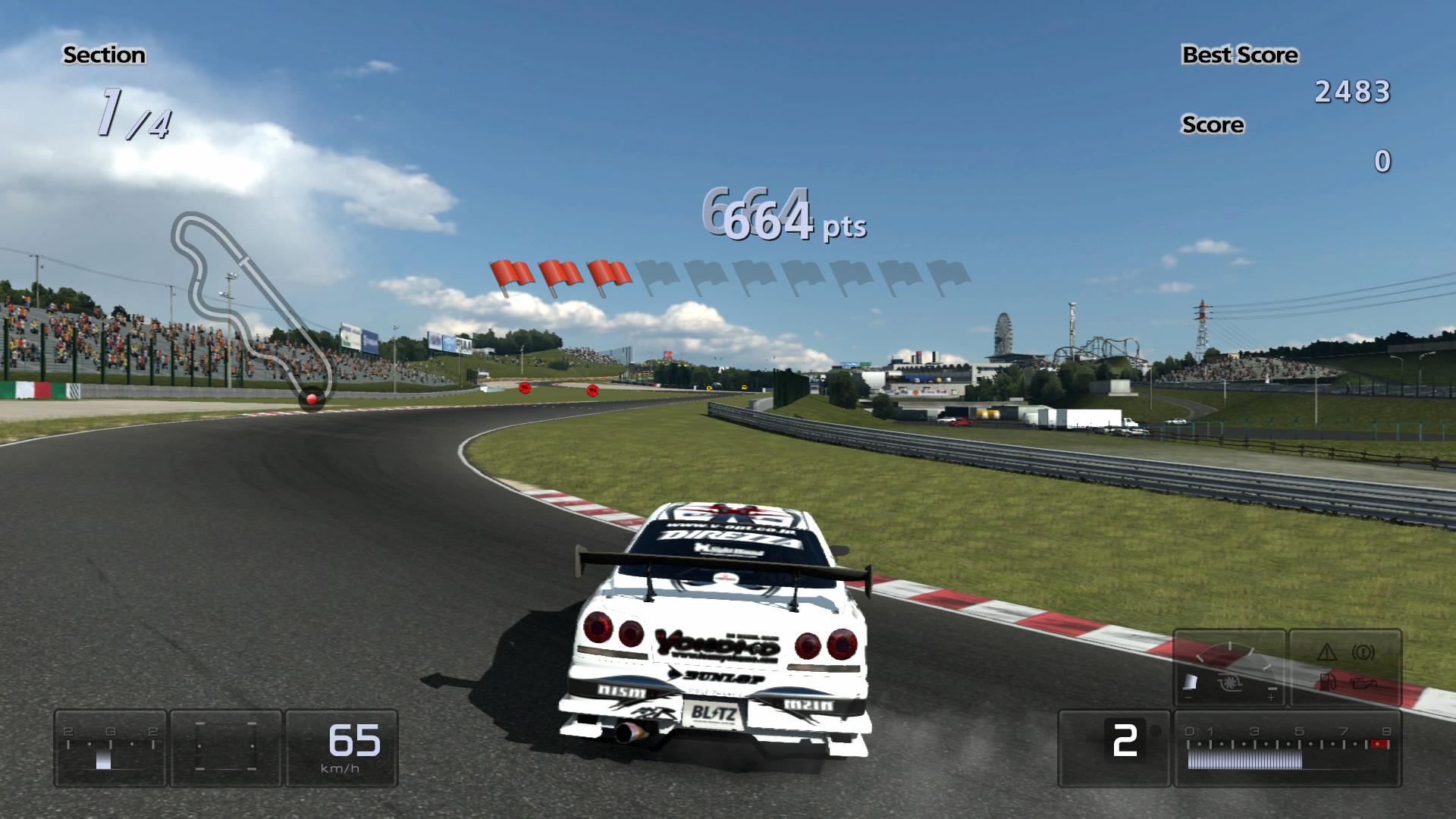 Gran Turismo 5 Prologue is difficult to peg in the replay value department. Racing veterans will probably whiz through the ten different tracks (well six tracks with some variations on them), but can have a lot of fun with the 60+ different vehicles to earn. Then there is the online aspect that will draw a lot of people in. What remains to be seen is what kind of incorporation Sony will allow of Gran Turismo 5 Prologue into Gran Turismo 5. Can players who have Prologue be able to import them into the full release?
The controls found within Gran Turismo 5 Prologue are very nice. I enjoyed getting a more powerful vehicle and feeling the difference in the racing action. There are some restrictive races that force the player to purchase certain vehicles, since those races only allow certain vehicles. In order to beat a class all of the races have to be beaten. I found myself using the easiest race in each class and running that race over and over again until I had the money for the required car. The variety of different views this PS3 game allows should keep all racing gamers happy.
The Mild Suggestive Themes is going to be the biggest problem most families will have with Gran Turismo 5 Prologue. I know some of our readers will point out the breaking of the speed limit, and I can understand their concerns. Gran Turismo 5 Prologue races on closed circuits that look like race tracks, and nothing any normal driver would find in real life. My personal opinions of Gran Turismo 5 Prologue remain positive, and I hope the full version includes a Toyota Celica (my personal preference being the 1975 normal back).
- Paul
Graphics: 89%
Sound: 76%
Replay/Extras: 82%
Gameplay: 88%
Family Friendly Factor: 84%
System: Playstation 3
Publisher: Sony
ESRB Rating: 'E' for Everyone
{Mild Suggestive Themes}
Want more info on this product, or the company that made this product?
Set web browser to:
Link

Got a question, comment, or a concern regarding this review?
Email them to:
pbury@familyfriendlygaming.com