Go Diego Go Safari Rescue
SCORE: 89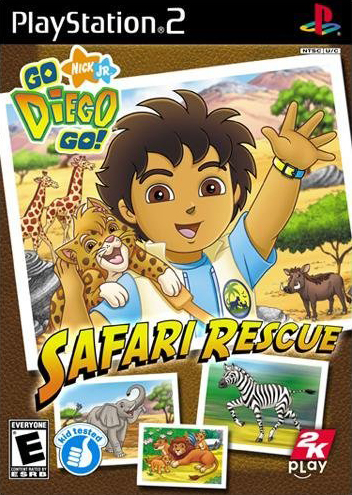 Who says the PS2 is dead? With great games like Go Diego Go Safari Rescue this home console machine shows it has life left still. If you played the Nintendo DS version of Go Diego Go Safari Rescue then you already know the story. For those who have not had the pleasure let me explain. A mosquito finds a magic wand and turns into a lady who does mean things to the animals in Africa (i.e. turning elephants into stone). So it is up to Diego to save the animals via a magic drum. The magic is all make believe in this PS2 video game, and does not reach the level of occult. The main game play aspects of Go Diego Go Safari Rescue is side scrolling adventure where the player searches for specific items. These range from helping lion cubs find their pride, to food for a turtle.
The cel shading used in the graphics of Go Diego Go Safari Rescue took me back for a minute. I had hoped for some nice 3D graphics, but the children we had try this game liked the look of the characters. There are plenty of colors in this game, and they all go along with the theme of Africa quite well.
I love how encouraging the sounds are in Go Diego Go Safari Rescue. I purposely got some things wrong to see how the game would treat a mistake. Go Diego Go Safari Rescue does not insult, or chastise; instead it encourages the player to try again. There is English, some Spanish, and some words in an African tongue.
The quest to save the elephants is lengthy enough to keep most kids busy for a month or more. 2K Play also included some races for more than one player. Parents can also plug in the second controller and help their child out in different parts of Go Diego Go Safari Rescue. If you are looking for an educational game that is also fun for a child then this Playstation 2 game is worth your hard earned dollars.
2K Play completely understands how to create a video game for children. The directions are given verbally, and images are shown (as far as how to move the controller). This allows children who do not know how to read the ability to play Go Diego Go Safari Rescue. The levels have an amazing intelligent design to them if you want to find all of the items, get all the badges, etc. This game is forgiving enough to let the player complete the level without finding everything.
Go Diego Go Safari Rescue is a wonderful game to see on the market. This PS2 video game is fun for kids, and teaches them a few things along the way (like animals). I would love to see more games like this one, and am glad that 2K Play put some effort into this one. Pastors should look at this game for children. It was my pleasure to play and review this video game.
- Paul
Graphics: 86%
Sound: 88%
Replay/Extras: 85%
Gameplay: 93%
Family Friendly Factor: 92%
System: Playstation 2
Publisher: 2K Play
ESRB Rating: 'E' for Everyone
Want more info on this product, or the company that made this product?
Set web browser to:
Link

Got a question, comment, or a concern regarding this review?
Email them to:
pbury@familyfriendlygaming.com