Frantix
SCORE: 77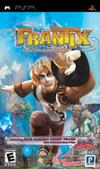 The Adventures of Lolo on the 8-bit NES (Nintendo Entertainment System) ranks in my personal top ten video games of all time. I really enjoy that kind of puzzle action. To my dismay there has not been similar puzzle action in quite a long time. That is until I took a chance on Frantix on the Playstation Portable. Frantix is not exactly the same as Lolo, but it has some of the same puzzle action.
One of the most notable differences between Frantix and the Lolo franchise is the graphical department. Frantix is in 3D, and has quite an eastern theme to it. The Adventures of Lolo franchise was very bright, colorful, and vibrant in a neat little cartoon universe. Frantix is comparatively a lot more bland. The player can drown in all kinds of different liquids, and will fall down when a creature runs into him/her. The cartoon violence is present, but rather light in my humble opinion.
The sounds in Frantix are decent, but they do not go along with the name of the game. The clock that ticks down in each level does make the action more frantix than it needs to be, and detracts from the thinking aspect of this game. I did not catch any offensive sounds while playing.
There are 180 different levels in this game, that will keep most gamers busy for quite some time. After that however there is little reason to replay this game. Most puzzles have one solution and trying to beat that time is not a good reason to replay a game. This game can be found cheap, and is worth your hard earned dollars in my humble opinion.
The characters control generally well, although a run button would have been nice. The puzzles are thought provoking enough to warrant ones attention. If nothing else this brings back the Adventures of Lolo game play to a brand new generation. Now only if they would actually bring back Lolo.
There are some Egyptian, and eastern statues that made me a little uncomfortable. Images of false gods are something that does trouble me, and there was no need for such content in this game. I like the problem solving Frantix teaches.
- Paul
Graphics: 70%
Sound: 80%
Replay/Extras: 81%
Gameplay: 85%
Family Friendly Factor: 69%
System: Playstation Portable
Publisher: Platform Publishing
ESRB Rating: 'E' for Everyone
{Cartoon Violence}
Want more info on this product, or the company that made this product?
Set web browser to:
Link

Got a question, comment, or a concern regarding this review?
Email them to:
pbury@familyfriendlygaming.com