Dungeon Maker Hunting Ground
SCORE: 68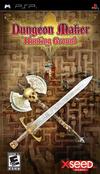 The Playstation Portable may not be doing as well in terms of sales as the Nintendo DS, however it is getting some rather fascinating role playing games. Dungeon Maker Hunting Ground from Xseed Games is one such video game. Personal Computer (PC) fans will find a lot to like about this game. Players start with a generous amount of materials and go outside of town to build a dungeon. This dungeon attracts monsters, which the player kills off. The loot from killing the monsters allows the player to buy more materials to build an even bigger dungeon. Eventually more floors are added along with a whole slew of different room sizes.
The graphics in Dungeon Maker Hunting Ground are okay, but not at the same level as a lot of other Playstation Portable (PSP) games on the market. There is a lot of reused graphics throughout the game. The 3D models look nice though. There is a lot of hacking and slashing violence as well as magical attacks. There is some light sexual content in this game.
I really liked the music in Dungeon Maker Hunting Ground. Some composers just have a gift, and Hiddeki Yammamoto is one such composer. The special effects sounds are pretty standard for this genre, meaning not too annoying, but not too interesting either.
Dungeon Maker Hunting Ground is designed for a certain group of people. If you really enjoy creating your own dungeon tweaking it, and going back through that very same dungeon then this is a game for you. If that level of micro managing does not appeal to you, then you will not be replaying it. There is something to be said for the ability to change the dungeon on the fly.
The biggest drawback to Dungeon Maker Hunting Ground in my book is the gameplay. The controls handle well, but the hack and slash action has problems. For some reason I could be standing right near an enemy swinging and miss them entirely. They were hitting me though. On top of that the fighting got pretty boring, really fast.
Creating a place for evil to come in order to keep it away from others is an interesting concept and the main theme behind Dungeon Maker Hunting Ground. Keeping others safe is an admirable lesson. A lot of the monsters look like animals, or fantasy based creatures. There are things like skeletons, and spirits that made me a little uncomfortable. Some of the characters in this game are a little rough around the edges.
- Paul
Graphics: 62%
Sound: 80%
Replay/Extras: 77%
Gameplay: 64%
Family Friendly Factor: 58%
System: Playstation Portable
Publisher: XSeed Games
ESRB Rating: 'E10+' for Everyone 10+
{Fantasy Violence, Mild Suggestive Themes}
Want more info on this product, or the company that made this product?
Set web browser to:
Link

Got a question, comment, or a concern regarding this review?
Email them to:
pbury@familyfriendlygaming.com