Dr Mario Online Rx
SCORE: 90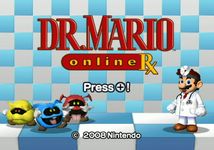 The classic game Dr. Mario has been remade many times through the course of Nintendo history. It is only natural that Nintendo would release another version of this puzzle classic on the Nintendo Wii. Dr. Mario: Online Rx has players control the medicine to destroy the viruses. A personal favorite of mine (and the rest of my family, too), I just knew it was my obligation to review it. This game is on the Nintendo Wii's shopping channel, in the WiiWare section. This game can be purchased for 1000 Wii points (or $10.00 US Dollars). There is the original classic mode, as well as a new mode called Virus Buster. Both very fun to play, this makes the deal even sweeter.
The graphics of Dr. Mario: Online Rx are very simple. That, however, is a very good thing in this case. Viruses, Dr. Mario, pills, and other items have a nice smooth look to them, and it all looks very nice and fluid when playing. The only violence shown is the viruses disappearing, and it is not at all offensive in my humble opinion (editor: or the editors). No offensive images were seen by this reviewer while playing this Wii game.
The music and sounds of Dr. Mario: Online Rx are nostalgic. The original songs are remixed, and the sound effects stay true to the originals. No offensive sounds were heard by this reviewer.
The big thing about this game is you can play with people online. It's a lot of fun, and very clean. This is a game I'd recommend to puzzle fans or players just wanting something to pass the time with a game that is quick and easy to learn. This game can be purchased in the WiiWare section of the Shopping Channel for 1000 Wii points. In my humble opinion, this game is worth the price.
-ClassicTyler
Graphics: 90%
Sound: 90%
Replay/Extras: 90%
Gameplay: 90%
Family Friendly Factor: 90%
System: Wii
Publisher: Nintendo
ESRB Rating: 'E' for Everyone
Want more info on this product, or the company that made this product?
Set web browser to:
Link

Got a question, comment, or a concern regarding this review?
Email them to:
GameReviews@familyfriendlygaming.com