Diner Dash
SCORE: 88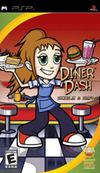 I made the mistake of thinking I was getting the better version of Diner Dash because it was on the technologically superior Playstation Portable. Eating crow over ideas like that is starting to come more naturally to me. The screen design of the PSP does have one feature of improvement over the Nintendo DS - no screen swapping. I could play without having to scroll back and forth a lot, which was nice. The service aspect is certainly present in the PSP version of Diner Dash as well.
The PSP version is definitely more difficult than the Nintendo DS version, so it may appeal to an older crowd. If you want to find out what it would be like to quit that office job, and serve the public in a restaurant then Diner Dash is right up your alley. The graphics are a little sharper, with a little more detail in the Nintendo DS. It can be difficult to tell, but they certainly are a little bit better. Serving others with a joyful heart is something Christ taught, and this game includes that lesson in spades.
I saw no offensive images while playing this game. The sounds are a little nicer on the PSP version as well. I found some of the music to be catchy personally. I heard no offensive sounds while playing this game. My concern about the replay value goes to the difficulty. I am worried that some will get frustrated and give up before seeing all the restaurants. The layout of the controls is certainly a problem for Diner Dash on the PSP. If I had not seen the Nintendo DS version played I may not have been aware.
It can be sluggish going from table to table, getting the baby chair, etc. Diner Dash coming out on the PSP is exhibiting a very nice trend that those of us at Family Friendly Gaming are very pleased to see. Good, fun, and decent video games are being released. This is the kind of a game that is safe for the entire family.
- Paul
Graphics: 90%
Sound: 87%
Replay/Extras: 88%
Gameplay: 79%
Family Friendly Factor: 96%
System: Playstation Portable
Publisher: Eidos
ESRB Rating: 'E' for Everyone
Want more info on this product, or the company that made this product?
Set web browser to:
Link

Got a question, comment, or a concern regarding this review?
Email them to:
pbury@familyfriendlygaming.com