Bust a Move Deluxe
SCORE: 74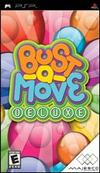 Bust-a-move Deluxe has nothing to do with Young MC. That was the WMG's first disappointment with this Playstation Portable (PSP) video game disc. Players shoot colored orbs up towards a mass of them. Once three or more of the same color are connected by the player then they fall down. The fun comes into play when more than just that one color drops. Did the WMG mention the ceiling is slowly falling down towards the floor? Letting colored orbs get past the shooter is Game Over.
So many pretty colors are found within Bust-a-move Deluxe. The artwork is generally good, as are the graphics for this game. There are some ghost characters, a few witches, and other halloween styled characters. The WMG knows many of the FFG readers are sensitive to such things. It is our duty to inform you the reader so you can act appropriately.
The WMG really wishes some Young MC music was included in Bust-a-move Deluxe. The music is okay, but not up to the Life in the Fast Lane. The special effect sounds are pretty standard for a Bust-a-move video game.
If you like the puzzle action found within Bust-a-move Deluxe then there is a lot of replay value. If however you are not into it, then you will feel this game is a waste of your money. There is not a lot to unlock, but a fair number of different game play modes. Majesco Entertainment also made sure that Taito included over one thousand puzzles.
When Bust-a-move Deluxe included the guide (editor: a dotted line that shows where the orb will be sent) it controls perfectly. Problems came into existence when the WMG had to try and guess how it would bounce off the wall. Making a mistake means adding to the orbs that need to be vanquished. The WMG had some fun playing this game at first, but it grew old pretty quickly.
The biggest drawback to the puzzle game genre is the addiction problem. If you think your loved one is addicted then please get them help. The halloween styled characters are troubling indeed. That brings Psalm 101:3 to mind for the WMG.
- Working Man Gamer
Graphics: 73%
Sound: 75%
Replay/Extras: 76%
Gameplay: 79%
Family Friendly Factor: 69%
System: Playstation Portable
Publisher: Majesco Entertainment
ESRB Rating: 'E' for Everyone
Want more info on this product, or the company that made this product?
Set web browser to:
Link

Got a question, comment, or a concern regarding this review?
Email them to:
WorkingManGamer@familyfriendlygaming.com