Bomberman 93
SCORE: 80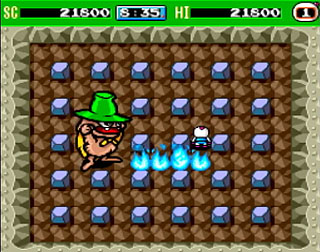 Bomberman '93 has to be one of my favorite Bomberman titles. Not only is it a challenge, but it brings back how my favorite hero humbly started. I think Paul can agree, seeing how we're both Turbo-Grafx 16 fans. At any rate, I must continue. The evil Black Bomber (note: There is no racism. When the Bombermen are called colors, it's because of their suit) has stolen data from the Data Banks, and it's up to White Bomber to save the day. While trying to catch Black Bomber, White stumbles on to a series of plants infested with evil creatures. Black Bomber hid the data in the planets, so Bomberman decides to investigate.
The game play of Bomberman '93 is VERY similar the very successful plan of all 2-D Bomberman games. You defeat enemies, find items, and get through the escape door. As far as violence, Bomberman is family friendly. The violence of the game is a Looney-Toon style matter. When the enemies blow up, they turn burnt with a charcoal effect, much like a cartoon. They then disappear. No gore or any offensive matter is shown.
The music is very catchy. The soundtrack was planned and composed very carefully. The music is fast paced. No offensive sounds were made. The best part of Bomberman '93 (note, I rated this game in the Bomberman Collection CD for the PC). This version (on the Virtual Console) will receive a higher rating, due to multi-player) is the multiplayer.
On the PC version(Bomberman Collection), multiplayer was almost impossible. On the Virtual Console, Bomberman fans alike can play Multiplayer battles in the comfort of their living rooms. It's a fast paced activity.
All in all, Bomberman '93 is worth the 600 Wii Points. Bomberman fans, or new players exploring the series will have a blast (no pun intended).
- ClassicTyler
Graphics: 80%
Sound: 80%
Replay/Extras: 80%
Gameplay: 80%
Family Friendly Factor: 80%
System: Wii
Publisher: Hudson Entertainment
ESRB Rating: 'E' for Everyone
{Comic Mischief}
Want more info on this product, or the company that made this product?
Set web browser to:
Link

Got a question, comment, or a concern regarding this review?
Email them to:
ClassicTyler@familyfriendlygaming.com