Blokus World Tour
SCORE: 89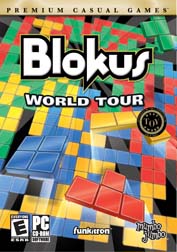 I have always liked puzzle games, even when they humble me greatly. Blokus World Tour is part puzzle game, and part board game. Players have a set amount of Tetris like blocks that can be played. They must be played caddy corner from another one of the player's pieces and not touch on a side face. Sound complex? Not at all. The strategy comes into play when the board is almost filled and players are trying to place specific pieces. Learning what to play early is one of the keys to this Personal Computer (PC) video game from Mumbo Jumbo.
There are some nice colors used in Blokus World Tour. Many of them are soft, mellow, and relaxing. Which is nice to offset the stress of trying to figure out where to play next. The characters are all done in a cartoon style. They celebrate wins, and have rather negative visuals when they lose. Some of these are funny as they look shocked that they lost a match. None of the images got to the point of being offensive. Some variety to the backgrounds would have been nice.
There are plenty of instrumental tracks to be heard in Blokus World Tour. All of them fit into the theme of this PC video game quite well. In fact I found myself humming some of the songs, and enjoying the rhythm. The special effect sounds make Blokus World Tour feel like a game show, which added some character to this game.
Blokus World Tour is a difficult game. There is a nice learning curve, and plenty of settings to mess around with. Mumbo Jumbo also made sure that there are a decent amount of unlockables in the way of gold blocks. They remind me of awards earned on Xbox Live. If you like puzzle games that will get under your skin, then Blokus World Tour is worth your hard earned dollars.
I absolutely adore how Blokus World Tour plays. The controls are great, and the undo button is a wonder. For those players that get stuck there is a multi-level hint button. This will show the places the player can play, then the places that they can not play, then which pieces can be played, and finally the game shows the player which block it thinks should be played and where. This is one complex, and fun PC game.
Blokus World Tour teaches pattern recognition, planning ahead moves, as well as blocking out other players. I would like to see sequels to this video game. In fact Blokus World Tour would be a great addition to the Nintendo DS library and/or the Playstation Portable library. Blokus World Tour is safe for the entire family, and I enjoyed it.
- Paul
Graphics: 82%
Sound: 86%
Replay/Extras: 95%
Gameplay: 94%
Family Friendly Factor: 90%
System: Personal Computer
Publisher: Mumbo Jumbo
ESRB Rating: 'E' for Everyone
Want more info on this product, or the company that made this product?
Set web browser to:
Link

Got a question, comment, or a concern regarding this review?
Email them to:
pbury@familyfriendlygaming.com