Bible Champions II
SCORE: 94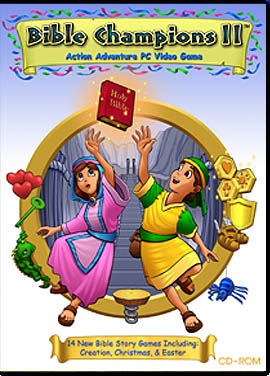 The WMG had not even heard of Bible Champions, let alone Bible Champions II. God certainly does work in mysterious ways, and this was just the video game the WMG needed to reset some of those attitudes. It is scary how quickly some of the world's philosophies can silently creep into the WMG's mind. Bible Champions II is a fun way to learn fourteen historical truths from the Holy Bible. Even some of the younger gamers can play this game since the controls are easy, and the instruction is all verbal. This is also the kind of game that Family Friendly Gaming looks for, and loves to report on.
The graphics in Bible Champions II are very bright and colorful. The different locations are interesting looking, however may not be historically accurate. The details are okay, but this game will not tax your 3D graphics card. There are images that promote a relationship with God, and wholesome images are used properly. Some of the areas can have repetitive and bland graphics.
The WMG loves the sounds in Bible Champions II. The voices that instruct are so calm, serene, and soothing that it makes playing this video game a pleasure. The voice acting of those speaking the parts of the Holy Bible is fantastic. The music is upbeat, cheerful, and could not offend anyone. It goes without saying the sounds in this game reinforce the truths of the Holy Bible.
There are plenty of items to find, and extra little mini quests to perform in the various levels. The only reason to replay a level is to relearn the lesson, or to try for more points. There are a few hidden areas to unearth, and secrets to find. Only one person can play this game at a time. In the WMG's expert opinion this game is worth your hard earned dollars, especially since it can be found fifteen US dollars or less. This would also be the kind of game that you want your children to play.
Bible Champions II has a very nice control scheme that is very quick and responsive. The game also has an in game arrow to guide the player to the next destination. This arrow always points to the exact location, not how to get there (as obstacles may be in the way). There are also some puzzle elements of rebuilding bridges, helping someone find their stuff, etc. The level design can be a little simplistic in some areas, and very intricate in others. The WMG found this to be a very fun video game to play for those of all ages.
Few video games make the WMG stand up and take notice anymore. Violence and sex seem to be the entrapments in most video games now-a-days. It is such a pleasure to play a video game that is fun, and shows a better path. Bible Champions II teaches wonderful things, is safe for the entire family, and is one your pastor should preach about. Can I get an Amen?
-WMG
Graphics: 86%
Sound: 100%
Replay/Extras: 88%
Gameplay: 94%
Family Friendly Factor: 100%
System: Personal Computer
Publisher: Third Day Games
ESRB Rating: 'NR' for Not Rated
Want more info on this product, or the company that made this product?
Set web browser to:
Link

Got a question, comment, or a concern regarding this review?
Email them to:
WorkingManGamer@familyfriendlygaming.com