Avatar the Last Airbender
SCORE: 79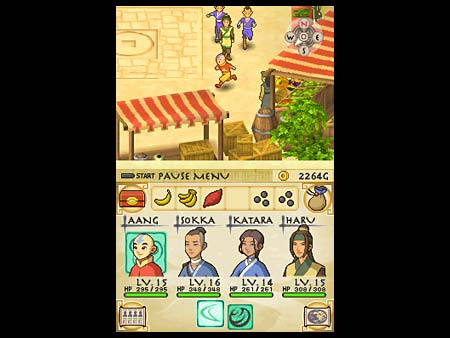 THQ really impressed me with Cars on so many different platforms. Avatar the last airbender has been hit and miss on different consoles. The Nintendo DS version of this game may be the best one. This follows the cartoon of the same name that relies on eastern themes. This fantasy world has four different nations all built around the elements of earth, air, fire, and water. The fire nation is the most militant, and at war with the others. The Avatar is from the air nation, but is also the remaining member from that bender tribe. Bending is what these members of these nations do, and it is like fantasy magical powers based on said element (i.e. throwing water at a fire). Players start out with just Aang, and eventually get all four of the characters on the team. Leveling up is allowed, and actually can make certain bosses easier.
Avatar the last airbender is extremely bright and colorful. The attention to detail is fantastic. The characters look just like they do in the cartoon show, and the artwork is a style that really floats my boat. There is cartoon violence as the different characters hack and slash their way through. There is no blood or gore, and THQ found a nice balance in between exploring, and fighting. The fighting never got too often, or too tedious. Aang is quite often shown committing acts of kindness to those in need.
The voice acting that welcomed me between levels has to be the biggest surprise of the Nintendo DS version of Avatar the last airbender. The quality of these sounds are at the level of the show. The seven different chapters have different music, and most of it is awesome. There were a few areas that the music was not my cup of tea. The sounds of the different animals, and machines works well in this setting.
Most decent players should be able to beat Avatar the last airbender in around eight hours (one work day essentially). For the price of this game it is my opinion that it is worth your hard earned dollars, especially if you are into the show, or looking for an action adventure hack and slash with some role playing game elements.
The controls in this game are exceptional. The use of the touch screen, along with its applications is well thought out. The designs of the levels are nicely done, along with how well the rotating camera works. I had fun playing this game, and was eager to see which areas were playable next.
The main area of concern in Avatar the last airbender is the light education into eastern religions, with topics like reincarnation being taught. The game also teaches a much stronger lesson on how to act when you are the only one who can. Some of the other versions of this game really go much deeper into the bad teachings. Still the door can be opened with this game. Addiction should be no problem with this one, but keep an eye on the violence.
- Paul
Graphics: 79%
Sound: 85%
Replay/Extras: 81%
Gameplay: 87%
Family Friendly Factor: 64%
System: Nintendo DS
Publisher: THQ
ESRB Rating: 'E' for Everyone
{Cartoon Violence}
Want more info on this product, or the company that made this product?
Set web browser to:
Link

Got a question, comment, or a concern regarding this review?
Email them to:
pbury@familyfriendlygaming.com