Animal Crossing City Folk
SCORE: 84

The release of Animal Crossing City Folk on the Wii signifies a major event in the video game industry. I have played the Gamecube, and Nintendo DS versions of this franchise. I have found a lot of things to like, and a few things I would like to see improved. Some of those have occurred in this Wii game, and some I am still waiting on. The biggest change in this version is the inclusion of the city. This is actually the most natural progression of a lot of the characters who used to visit the town in previous games. Going to town is simple, and makes a lot of sense. Nintendo expanded the characters, and what can be done. One of these new characters is a fortune teller. This seems strange to us at Family Friendly Gaming. We are not clear why something as polarizing as a fortune teller was included but there is still no church included. If the city alone was not enough to interest mellow gamers, Wii Speak has also been added. This allows players to talk to one another through a microphone. Nintendo kept the friend codes in place so you will know who you are talking to. Parents should still oversee the games their children to play to make sure they are not hearing anything offensive from those with less of an education in etiquette.
Each town can house four different players, and different towns can be visited (editor: as long as Friend Codes have been exchanged). Characters from the Nintendo DS version can be brought in. I did this and was disappointed that I lost all my stuff, and house upgrades; however my catalog of items was alive and well which saves a lot of time. The towns in Animal Crossing City Folk are the most vibrant and alive. There are more bugs, fish, trees, mushrooms, and weeds than ever before. Paying for the mortgage has to be done at the little teller machine instead of Pelly. The mayor now sleeps at Town Hall, like a lot of politicians in the Seattle area.
Animal Crossing City Folk is the best looking Animal Crossing of all time. The improvements, and additional details shine through. The worst violence I found in this Wii game is getting stung by a bee. I absolutely adore all of the bright and colorful graphics in the game. Aside from the fortune teller, the graphics in this game are safe for the entire family. Players can play with a normal Animal Crossing character or bring in their Mii's. Different people in the Family Friendly Gaming town (FFG) have gone different directions. There are plenty of items that can be used, and they all look really good as well. Players can also still make their own designs like a shirt, hat, and flag with the cross on it.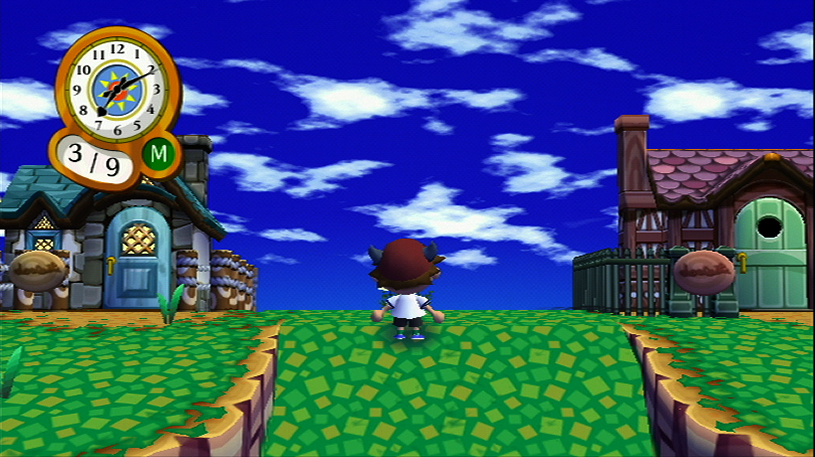 Animal Crossing City Folk has the same classic sounds from the previous games. I was honestly a little disappointed with this. The tunes are addicting and can get in the head, but I have spent a lot of time with them in previous games. I was also a little shocked to hear the Christian censorship in certain parts. For example Easter is redefined as Bunny Day. Christmas trees are holiday trees. Family Friendly Gaming stands for the traditional definitions of words, and the Judeo-Christian holidays observed not only in America but all over the world. This has been a problem with the series that seems to has gotten more extreme as new versions of the game are released. It would be nice to be able to have the choice to correct these. Thankfully the censorship has not gone too far yet. We can still write letters/post on the bulletin board telling people Jesus saves, and God is love. Animal Crossing is a wonderful tool that can and has been used for witnessing. The super majority of Americans claim to be Christian, but Animal Crossing City Folk goes to people all over the world, and the gaming community is not blessed with such culture.
Animal Crossing City Folk is a fun game with a lot of replay value. Getting to witness to people through words across Wii Speak is a nice bonus. All of the various items, characters, and collectible things means this game can be played for years - easily. All of the different fish, bugs, and fossils are back for the player to capture and donate to the museum. I almost forgot there is a lot of art that can be collected and donated. Personally I have rarely been interested in that aspect of this game. All of the different fruit trees, flowers, and seashells are also present and accounted for.
Animal Crossing City Folk plays at the pace of the character. Towns can easily be maintained by playing fifteen minutes and day, but those that want to do more can play for hours. Pay off that mortgage at your own pace, upgrade the house, and collect those bugs/fish/fossils. I had no problem with the controls in Animal Crossing City Folk, but there are some others here at Family Friendly Gaming that had trouble doing things like open doors, and shake trees. The key is to point the Wii Remote exactly at the item being interacted with (and press A), or to have the Wii Remote pointed off screen, face the item, and press A.
Animal Crossing City Folk has wonderful generally safe fun for the entire family. There are a few issues as well. The removal of references to Christ in terms of holidays is an area that needs progress. I was also hoping there would be a church with a pastor, or at the very least a building design tool. A design tool for the town is also needed in my opinion. I started over multiple times trying to get the right town layout, and finally gave up. Overall there is a lot more good than bad in Animal Crossing City Folk. I love the lesson of paying off debt, and being able to tell others about Jesus Christ inside a video game.
- Paul
Graphics: 92%
Sound: 75%
Replay/Extras: 97%
Gameplay: 81%
Family Friendly Factor: 77%
System: Wii
Publisher: Nintendo
ESRB Rating: 'E' for Everyone
Want more info on this product, or the company that made this product?
Set web browser to:
Link

Got a question, comment, or a concern regarding this review?
Email them to:
pbury@familyfriendlygaming.com