Veggie Tales Dance Dance Dance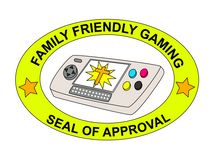 SCORE: 99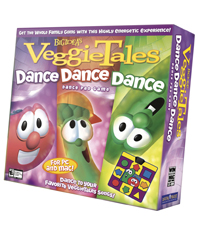 The biggest surprise release of 2006 was VeggieTales Dance Dance Dance from Digital Praise. This game takes the world class humor of VeggieTales, and mixes it with fitness wonder of a Dance pad video game. Dance pad video games involve stepping up, left, right, and down when the arrows on the screen match the boxes on the screen. Larry, Bob, Junior, and the entire bunch of vegetable characters are present and accounted for. The humor of this game is for all ages of the family, something that Family Friendly Gaming takes an interest in.

The graphics in VeggieTales Dance Dance Dance are very bright and colorful. The animations of the different vegetables is certainly at the level of movies, and television shows that Big Idea normally produces. The details are nicely done. The artwork is just as good as the DVD versions of VeggieTales, which is very popular here at Family Friendly Gaming. The dance pad is decorated with a VeggieTales theme, which really adds to the wow factor. The lyrics are displayed on the screen, and many of them encourage a relationship with God. There are no offensive images in this game.

The sounds in VeggieTales Dance Dance Dance are top notch. The selection of VeggieTales music is simply astounding. There are so many wonderful songs from VeggieTales CD's to Silly Songs. All of this music is very cheerful, uplifting and encouraging. All of the music and sounds are very crisp, and clear. There are sounds that promote teachings from the Holy Bible, and encourage a relationship with God.

Dance games have a wonderful replay value. The more songs that are included in a dance game, the more replay value there is. VeggieTales Dance Dance Dance has a ton of songs, and it a blast to play. More than one player can play this game. This is the kind of a game where exercise can be attained while playing. In this reviewers humble opinion this game is worth your extremely hard earned dollars.

The gameplay is very important for any video game, but even more so with Dance games. The VeggieTales themed dance pad works beautifully. In fact in all of our testing here at Family Friendly Gaming, we did not have one issue at all. The Dance pad responded quickly, and perfectly. The design of the levels (dropping of the arrows) is excellent on all difficulty levels. VeggieTales Dance Dance Dance is a fun game to play for all dancing ages of the family.

There are games that developers get really right, and Digital Praise got VeggieTales Dance Dance Dance really right. This game is safe for the entire family, needs sequels, promotes good health, and family time. It was my personal joy and pleasure to play through, review, and write about this Personal Computer, and Macintosh video game. I would recommend this game to a pastor, especially in the children's, youth, and adult sections. This game also earns the rarely given Family Friendly Gaming seal of approval.
- Paul
Graphics: 98%
Sound: 100%
Replay/Extras: 100%
Gameplay: 99%
Family Friendly Factor: 100%
System: Personal Computer/Macintosh
Publisher: Digital Praise
ESRB Rating: 'E' for Everyone

Want more info on this product, or the company that made this product?
Set web browser to:
Link

Got a question, comment, or a concern regarding this review?
Email them to:
pbury@familyfriendlygaming.com