The Zoo Race Noahs Adventures 2
SCORE: 77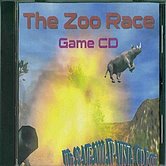 Ya'll know me, I do not go along with the rest of the lemmings following the logic of the world. Instead I go to God, and listen to what He has to say about video games. Finding games like The Zoo Race on the Personal Computer is something I love to do. God gets the glory, because finding out about this game was His handiwork not mine. We get to play different animals (editor: who have some amazing character to them) ranging from a horse to a pig. All of this from the independent developer Cougar Interactive.
Graphically I could tell this is a game produced on a lower budget than the big name studios. However playing independent games lets me see a lot of interesting, and innovative ideas that big name studios do not always release. There is a definite Biblical message in The Zoo Race ranging from flags to scriptures found in the story section of the game. The usage of color is generally very good. I did run into a problem here or there with certain graphics not mixing together well. The models of the animals is pretty cool, and much better than I was expecting. I did not find any offensive images while playing this game.
Independent developers usually excel in one area of video game creation, and the sounds department is where Cougar Interactive hit the home run. The music is awesome. Included within The Zoo Race is an area where the animals dance around, and each different song from the game can be played. The music is so popular that the developer has also released a music CD of the music found within the game. The announcer's voice is a little too monotone for my tastes, but that is a minor issue. It goes without saying - offensive sounds are not found within this game.
Independent game developers usually sell their video games for a cheaper price and that is true of The Zoo Race as well. There are plenty of racing levels, and different animals that are playable right from the start. The different stats as far as running and swimming for the different animals adds some real strategy.
The race tracks are different from any other racing video game I have ever played (and I have played hundreds). One of them even has a mini maze right in the middle of the race. I had a few problems with controls, but was able to compensate. Hopefully a sequel will include some sensitivity controls. The layout of the race tracks shows some amazing intelligent design.
The Zoo Race is the kind of a video game that I get a real kick out of reviewing. It is a fun, and interesting idea that is worth the price of admission. I would love to see some sequels to this game. In fact this is the kind of a game that would work great on the home console downloads (Wii, PS3, or Xbox 360). If you are looking for a unique gaming experience with a lot of character to it, then check out The Zoo Race on the PC.
- Paul
Graphics: 58%
Sound: 90%
Replay/Extras: 79%
Gameplay: 70%
Family Friendly Factor: 90%
System: Personal Computer
Publisher: Cougar Interactive
ESRB Rating: 'NR' for Not Rated

Want more info on this product, or the company that made this product?
Set web browser to:
Link

Got a question, comment, or a concern regarding this review?
Email them to:
pbury@familyfriendlygaming.com